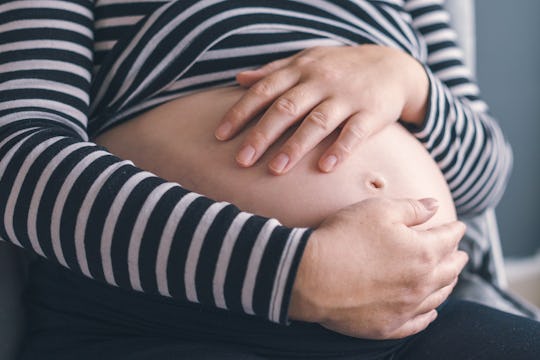 Bits and Splits/Fotolia
9 Third Trimester Moments That Prove You're Going To Be An Amazing Mom
Personally, I don't consider pregnancy to be a particularly fun time, especially towards the end. In fact, I think there has to be some reason why pregnant people are so miserable. Is it evolutionary? Does it serve some higher purpose? I want to believe that my pain and suffering was for a good cause, other than the baby that I got at the end. And when I think about it, I must admit that pregnancy is solid precursor to motherhood. There's just so many moments during your third trimester that prove you're going to be an amazing mom.
In my humble opinion, pregnancy is sort of like a nine-month-long parenting Boot Camp. You learn how to cope with heightened emotions, pain, sleep deprivation, fear, and a plethora of bodily fluids, all of which are totally necessary for motherhood. And, at least for me, late pregnancy was a seemingly never-ending lesson on how little sleep I could get and still remain upright. My pregnancy brain was good practice for mommy brain. And while I still can't remember a damn thing most of the time, I've learned to cut myself a little slack and be kind to myself, especially when facing a situation I can't entirely control.
Pregnancy also teaches you to take it easy, which is a lesson that I totally needed to learn if I wanted to take care of myself so I could be the best mom I could be. These instances, and so many other third trimester moments, prove that you're going to be an absolute badass mother once your baby gets here. And when you're at the end of your pregnancy, tired and miserable and maybe even afraid, you deserve to hear that reminder over and over and over again. You are going to be an amazing mother.