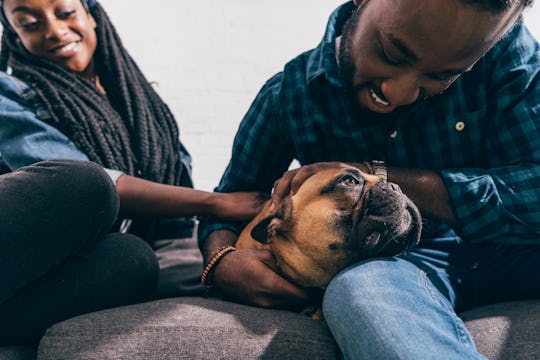 LIGHTFIELD STUDIOS/Fotolia
9 Ways Your Childhood Pet Prepared You For Parenthood
While having a beloved dog or cat isn't exactly the same as caring for a baby, there are a few similarities. For instance, you have to feed them, teach them how to use the "bathroom," make sure they get enough exercise, and show them affection. Both destroy toys, are undeniably defiant, and are constantly leaking bodily fluids. So believe me when I say there are more than a few ways your childhood pet prepared you for parenthood, you just didn't know it at the time.
Memories of my first cat, Princess, are few and far between. I was young when my family had her, but old enough to know that taking care of her was a great privilege. I had to make sure she had enough food and water to eat and drink, that her litter box was clean, and that her long fur didn't make its way into anyone's food. So while I can't really recall what it was like to have her around, I do know that she taught me a sense of responsibility and how to care for another life.
When I was in middle school my family adopted the most influential pet of my youth, though: my cat, Boo Boo. He was much more than a companion and confidant. Actually, he was a jerk, and he knew it, but that only made me love him more because, well, cats. He taught me all about unconditional love, and how to appreciate someone for who they are (and not who you want them to be). And now that I'm a mom, I can't help but realize all the ways all my childhood pets helped prepare me for life with two kids.