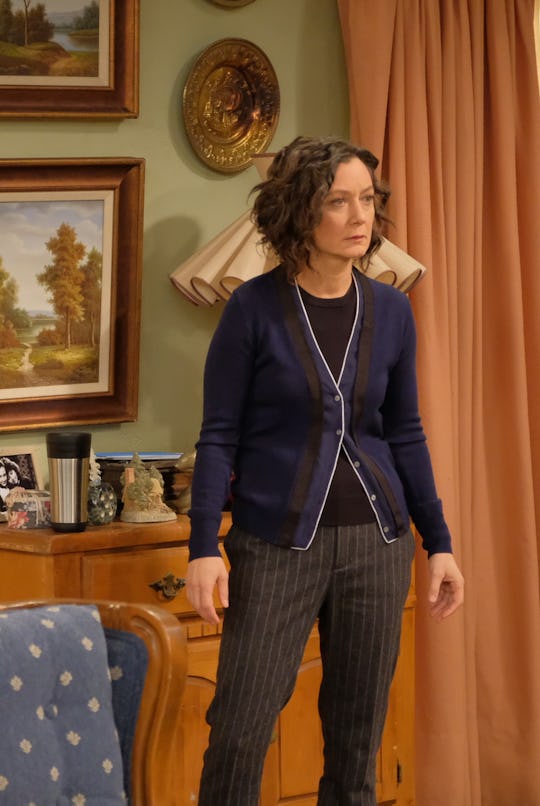 Adam Rose/ABC
This Timeline Of David & Darlene's Relationship On 'Roseanne' Showcases Their History
Like the well-worn plaid sofa or Roseanne's chicken shirt, David and Darlene as a couple are ingrained in the history of the show. For both of them, there were other relationships, but the one that seemed to work best was with each other. Since the show lasted so long though and has now returned, it's important to figure out the timeline of David and Darlene's relationship on Roseanne. If nothing else, it's meant to help give longtime viewers a refresher course and newer Roseanne fans a look into an important relationship from the show's history.
The original Roseanne premiered in 1988 and while David wasn't close to the Conner family right from the start, he did make his first appearance near the end of Season 4 and from there, he became more and more prominent in the series. I guess Darlene simply had to grow out of her awkward preteen years and into her awkward teen years in order to meet her future husband. But everything wasn't always perfect with them and the timeline of David and Darlene's relationship on Roseanne is definitely necessary in order to understand and even appreciate where they've been as a couple.
David was Mark's younger brother and Mark was in Becky's life before David made his first appearance in Season 4. When he did show up, there was an almost immediate connection between David and Darlene. In fact, part of their connection early on centered around their shared love of creativity and comic books. Together, they started an underground comic book as teenagers and even snuck off to Chicago together to try and sell it at a comic book convention. I mean as far as reasons to sneak off with your high school boyfriend go, that's probably the most innocent one ever.
He became an even bigger part of the show during Season 5 when Roseanne realized that his home life with abusive parents was no place for him and brought him home to live with the Conners. At the time, Darlene and David were still dating, but Roseanne and Dan basically thought of David as another, more well-behaved child of theirs, so he was there to stay.
During the same season, David and Darlene both applied to an art school in Chicago. While Darlene was accepted, David wasn't and they eventually broke up over this, but not before having sex together for the first time. Even so, she left for Chicago, and it was actually as heartbreaking as you can get in a 30-minute primetime sitcom.
In Season 6, Darlene and David slowly reconciled and got back together, thanks to David lying to the Conners about moving back home to his mom's house and instead staying with Darlene at her Chicago apartment. However, the lie didn't last for long because eventually Roseanne found out and brought him back home. Possibly because of this move, Darlene ended up dating someone else the following season while she was still in art school and David was back home in Lanford. The new boyfriend, Jimmy, turned out to be like the perfect combination of Mark and David and as a result, David moved on himself for a bit. Again, these were dark times in the world of Roseanne.
By the end of the season, Darlene and David were able to have a heart to heart that resulted in her confessing that she realized she'd treated him poorly at times, but when it came time for David to potentially end their relationship once and for all, he told her that he would never want to hurt her. And from there, they finally stayed together. Young love, am I right?
In Season 8, there were enough developments in Darlene and David's relationship to have spanned over more than just one season. When the family took a trip to Disney World, it's there that David and Darlene inadvertently conceived their first child, who is now the teenage Harris on the Roseanne revival. Near the end of the season, they got married.
Toward the end of Season 9, Harris was born prematurely. By this time, David and Darlene were living in an apartment in Chicago, where they had begun to build their life together. After Harris pulled through and they were finally able to bring her home, they did so in Lanford and the Conner home instead of staying in Chicago.
In the Roseanne revival, more than a decade has passed since then and things have definitely changed. While it's clear that Darlene and David went back to Chicago and had another child at some point, they also eventually broke up, which is sad considering all that they went through during their long relationship. However, maybe this means that somewhere down the line they'll find their way back to each other.
Check out Romper's new video series, Romper's Doula Diaries:
Watch full episodes of Romper's Doula Diaries on Facebook Watch.