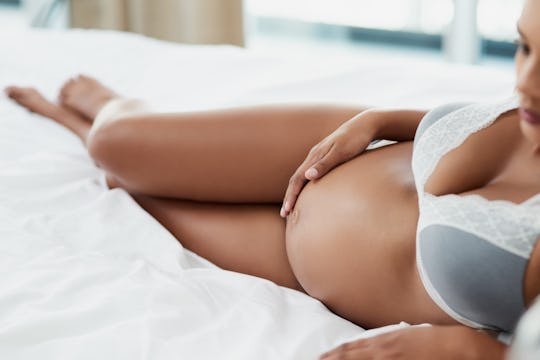 PeopleImages/E+/Getty Images
Actually Sexy Maternity Lingerie Looks To Heat Things Up On Valentine's Day
Just because your belly is now holding a bundle doesn't mean you can't be sexy this upcoming Valentine's Day — or any day for that matter. Yes, I know that's probably the last thing that appeals to you: wearing a tight, itchy, barely covering piece of clothing while your belly is about to pop. But there are so many clothing lines that offer sexy maternity lingerie options that will not only make you feel like a goddess, but are comfy as well. Oh, thank goodness!
Nighties are always a solid sexy choice, whether you're pregnant or not, and whether it's Valentine's Day or just any regular Wednesday. Or, try a sexy nursing bra with some booty shorts. Did I just say "sexy nursing bra"? Oh yes, I did. Trust me there are sexy nursing bras out there. You just need to know where to find them.
Your body has been through so many changes these past few months. Do something that's going to make you feel good. Yes, you're pregnant and you might not recognize yourself when you look in the mirror, but that doesn't mean you aren't a hot sexy mama. Embrace your new body! So, trade in those leggings and put on something that's going to show off all your sexy new curves. Oh, and thank goodness for overnight shipping.
This article was originally published on