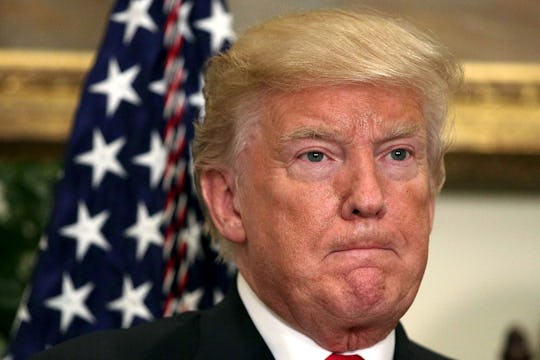 Alex Wong/Getty Images News/Getty Images
Actually, Trump's Ban On Transgender People In The Military Isn't Official, Joint Chiefs Say
President Trump provoked outrage Tuesday with the sudden announcement that he is banning trans people from the military, especially because he made this declaration via three tweets from his personal Twitter account. But Trump's ban on transgender people in the military isn't official for that very reason, according to a letter from the Joint Chiefs of Staff obtained by Reuters. The White House did not immediately respond to Romper's request for comment.
The chairman of the Joint Chiefs of Staff, Marine General Joseph Dunford, sent a letter to fellow military leaders on Thursday instructing them that there will be "no modifications to the current policy until the President's direction has been received by the Secretary of Defense and the Secretary has issued implementation guidance." Translation: No, Mr. President — you cannot issue changes in military policy over Twitter.
Since Trump's trans military ban tweets on Wednesday, the military careers of as many as 6,000 active transgender military personnel had been thrown into doubt without further instruction or guidance from the U.S. Department of Defense. Veterans, active duty, and even celebrities took to social media to voice their opposition. Former U.S. Army soldier and trans activist Chelsea Manning responded to Trump's trans ban with positivity and perseverance.
Trump's transgender military ban came as a surprise — and not just to millions of Americans as he made the announcement early Wednesday morning. According to Slate, the Pentagon didn't know about Trump's trans military ban before he made the announcement via Twitter. That said, the president reportedly did consult U.S. Secretary of Defense James Mattis about the decision — but getting an official statement from Mattis about the trans ban has proven a challenge, given that the five-star general is currently on vacation this week.
So what does this mean for the U.S. military in the interim? What's most important to take away from the Joint Chiefs letter is that Trump's trans military ban is not a law, nor does it even constitute an official change in policy within the military. If Trump wants to see this through, he needs to follow the proper channels to make such a massive change to U.S. military policy. That's not to say that a trans military ban might not happen at all, but it's important to understand that it won't be happening on the authority of a 140-character tweet.
For now, it's business as usual for the U.S. military, according to Dunford's letter. Given the enormous legal implications of Trump's trans military ban, it still remains to be seen if his ban will actually ever see the light of day if its taken to the courts.