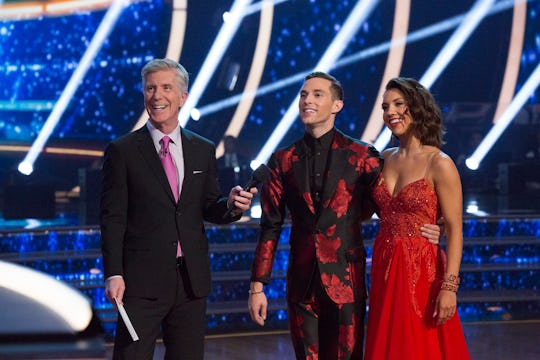 Kelsey McNeal/ABC
Adam Rippon Dedicated His 'DWTS' Performance To His Mom
Not for the first time this season on Dancing With the Stars, I found myself wishing that Season 26 was longer than just four weeks, if only to see Adam Rippon continue to evolve on the ballroom floor. In his most recent routine, Adam Rippon dedicated his DWTS performance to his mom and it was one of the more moving tributes of the night. To be fair, all of the different tribute dances of the night were emotional and moving in their own ways and with all of the contestants, you could see that their hearts were poured into the routines.
But as with all things Rippon seems to do, he really gave it his all on the ballroom floor and made quite the impression with literally everyone, including all four judges. So much so that he earned the first score of 10 of the night and a combined score of 39/40, which was the highest of the night up until that point. During the emotional video package that played before his performance, Rippon announced that he'd be dedicating his song and dance number to his mom for all that she gave and sacrificed in pushing him to achieve his dreams as an Olympic athlete. I'm not crying, you're crying.
In the video before Rippon's dance to "O" by Coldplay, which was a song he skated to at the 2018 Winter Olympics, he explained that his mom had raised him with five other siblings as a single mother, but still found the time and energy to constantly push him to achieve his goals and work toward something that mattered so much to him. And when he came out, he said that where his mom was concerned, "It didn't matter." Later in the video she said herself that "There's so much to be proud of with Adam," and once again cue the stream of tears.
The performance itself began in a birdcage and I don't know if that's ever been done before on DWTS, but it definitely worked with the song, the movements, and with Rippon too. Along with pro partner Jenna Johnson, Rippon's moves were fluid and beautiful as they moved within the cage. When they made their way out of it, their dance continued to be totally in sync. With tons of graceful spins and jumps, their contemporary routine was the perfect tribute to Rippon's mom on DWTS and was worth the near perfect score it earned him.
Judging by the close relationship Rippon has with his mom, Kelly Rippon, it made total sense for him to dedicate his dance to her on Monday's penultimate episode of DWTS Season 26. Outside of the show, he even took his mom to the Time 100 Gala in April where they dished to Entertainment Tonight about his mom meeting his boyfriend and approving. While she insisted that "he has good taste," of her son's choice in boyfriend, it was just adorable in general to see how close Rippon and his mom are in real life.
At the gala, Rippon toasted to his mom and "all the moms out there who have helped their kids realize their true potential." He also said that when it comes to his own mom, he recognized that she raised all of her children with the belief instilled in them that "they are champions, that they are a genius, that they are braver than they think, and that they are stronger than they know." So really, it's no surprise that he chose his mom as the recipient of his MVP dance on DWTS ahead of the Season 26 finale.