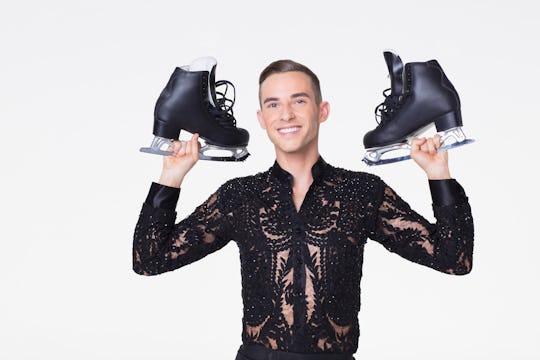 Craig Sjodin/ABC
You *Need* To See Adam Rippon's First 'DWTS' Performance
In the past, whenever there have been figure skaters on Dancing With the Stars, they've done well enough, especially given their experience in moving to music for large crowds. But Adam Rippon's first performance on DWTS Monday night proved he's in this to win this. I mean, he earned a 24/30, which was one of the highest score of the night up and incredibly high for someone's first night of the season.
If the highest score attainable is 30 and Rippon came that close in his first performance ever on the show, that's really saying something. But the judges themselves had a lot to say, literally, before they gave the U.S. figure skating Olympic medalist his scores. Carrie Ann Inaba told Rippon that he was "born to do this show" and that overall, his performance during the routine was "so polished, so precise." Again, this is the first night of DWTS Season 26 and Rippon has already made a huge impression on not only the judges, but pretty much everyone who tuned into the season premiere.
As one fan wrote on Twitter, "I didn't expect any less but Adam Rippon absolutely KILLED IT on #DWTS." I feel like that's the general consensus here about Rippon's first performance on DWTS, and rightfully so.
From the moment the lights illuminated those gigantic angel wings on the ballroom floor, it was clear that everything about Rippon's performance with pro partner Jenna Johnson was going to be amazing. Even if it wasn't the first night and his first performance, it would have still been impressive. Judge Bruno Tonioli, who gave Rippon a score of eight along with the rest of the judges, noted how close the pair already seem to be and how much synchronicity they already have. "In Week 1, to achieve that level is quite extraordinary," the judge told him.
For those who aren't all that familiar with Rippon's athletic accomplishments, the 28-year-old figure skater has been ice skating since he was a kid and although it took a few attempts before he finally qualified for the Olympics in 2018, he was determined to reach his goal. And when he earned a bronze medal at the 2018 Winter Olympics, all of his years of hard work paid off. In the same way, that hard work and determination going into DWTS Season 26 paid off on the first night alone.
With no real dance experience under his belt, you really wouldn't know it with the way he exuded energy and confidence right off the bat during his performance to Sissy That Walk by RuPaul. It certainly helped that he and his pro partner Johnson seemed to have chemistry from their first meeting, so that likely played into their working relationship as they prepped for Monday's premiere.
The judges said more than once throughout the course of Monday's DWTS Season 26 premiere that with just four episodes to the season, the contestants have to bring their A-game at all times. Rippon did that in his first DWTS performance, which honestly felt like mid-season material, as it was that fun to watch and virtually flawless. Thanks to the incredible moves and the fact that, as the judges said, Rippon basically looked like he belongs on that ballroom floor, he earned one of the highest score of the night, tied only with fellow contestant Josh Norman.
If this were any other season, I'd say that it's too soon to tell if Rippon's nearly perfect performance means that he'll be taking home the Mirror Ball trophy, but this was Episode 1 of four. With just three episodes left of the season, I'd say that Rippon is well on his way.
Check out Romper's new video series, Romper's Doula Diaries:
Watch full episodes of Romper's Doula Diaries on Facebook Watch.