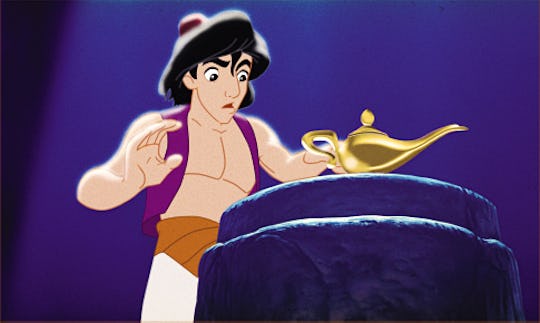 'Aladdin' Live-Action Is Happening, & Here's Everything You Need To Know
It feels like Disney has turned into Oprah Winfrey during her famous car giveaway this year with so many live-action movies coming to the big screen. "You get a reboot, you get a reboot, you get a reboot. Everybody gets a reboot!" And Disney isn't stopping anytime soon. Reimagined versions of movies such as Mulan, Beauty and The Beast, The Lion King, and more will be taking over theaters very soon. So get ready "I Can Show You The World" fans because your wish has come true: Aladdin live-action is happening, & here's everything you need to know.
The Aladdin live-action is just one of many movies coming to the theater sooner rather than later. First up, though, is Beauty and the Beast. The classic Beauty and the Beast stars Emma Watson reimagine Belle in the awesome feminist way only Emma Watson can do. That movie has been in progress for some time, and it is still not even set to come out until 2017. So, while there aren't that many details about Aladdin yet, just give it some time. Before you know it, Aladdin photos, cast lists, and more will come out and you'll be wishing you had your very own genie in no time.
As for now, we do know some things about the forthcoming film.
1. Guy Ritchie May Direct
The Disney animation will now be putty in the hands of the director famous for his Sherlock Holmes films. In Sherlock fashion, there will probably be a cool disguise scene involving Jasmine as she sneaks out of the castle and into the public. Or better yet, Jafar pretending to be the old man.
2. It Is Being Written By John August
The writer has written a ton of kid-friendly movies like Big Fish, Frankenweenie, Dark Shadows, The Corpse Bride and the newer version of Charlie and the Chocolate Factory. From quickly inspecting August's resume, we can expect a very imaginatively written script. Perhaps street rat Aladdin seeing princess Jasmine for the first time will look a little like the above.
3. It Will Be A Musical
This comes as no surprise. However, Comic Book states that the movie will "reportedly keep any and all of the musical elements of the animated film out."
4. It May Be Non-Linear
This is a signature style for Guy Ritchie. The Hollywood Reporter reports that the movie may be non-linear, which will make for an interesting take on the film. It's also a more complex style than seen in most movies targeted for children. Hopefully it will be cleverly done like we've seen in kid-friendly movies before like Hoodwinked and The Emperor's New Groove. Maybe the movie will open with Aladdin in the palace, and then flashback to his youth on the street.
5. The Lego Movie's Dan Lin Is Producing
A.k.a. expect a lot of humor. Dan Lin will likely be the funny bone in the overall skeleton of the motion picture. He already worked with Guy Ritchie when producing the two Sherlock Holmes films.
6. Jonathan Eirich Is Executive Producing
The film will be an "ambitious and non-traditional take on Aladdin." I wonder if friends Abu, the Magic Carpet and Rajah will make the cut.
7. There Has Been No Talk Of Genie... Yet
Disney is keeping very hush hush, about whether or not the genie will be involved in this film. My guess is that he will be, and that Disney is just treading lightly. Especially after already shelving a live-action prequel movie Genies last year. And if there will be a genie in the film, it won't be a surprise if he doesn't live up to his predecessor. After all, the original Aladdin won two Oscars.
It goes without saying that whoever plays the genie will have a big lamp to fill. I personally don't think anyone will ever be able to replace Robin Williams, we'll never have "a friend like [him]" again. But the genie on Broadway is currently stealing the show, so I guess you just never know.