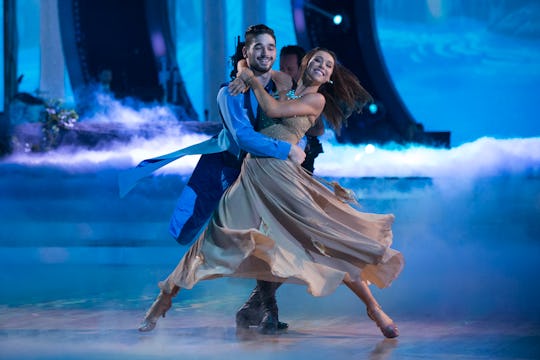 ABC/Eric McCandless
Alexis Said She's Developing Feelings For Alan On This Week's Episode Of "DWTS" & OMG
After watching model Alexis Ren get close to her dancing partner, Alan Bersten, during last week's episode of Dancing With The Stars, the couple grew seemingly closer in one week. When the couple returned to the DWTS dance floor for Halloween week, it was clear their bond had strengthened. And it could not have been more obvious after Alexis said she's developing feelings for Alan during this week's episode — which had everyone freaking out on Twitter.
Before the partners could dance, Alexis shared her thoughts about Alan. "Alan, he's awesome, he's super outgoing," Alexis said. "He's definitely been a good reflection of me to not take myself so seriously." After fans clearly saw the chemistry between the dancing partners last week, it was hard to deny that there wasn't something going on between the two of them. And Alexis proved those fans right on Monday.
"It's so much fun to dance with someone you have a connection with," Alexis said. "We communicate with our hearts."
Is that not the sweetest thing you have ever heard? Especially since Alexis looked into the camera afterward and said that she is "developing feelings for Alan and didn't see it coming." Needless to say, viewers at home were freaking out about Alexis' admission of feelings for her dancing partner.
But others were skeptical about the segment, with some thinking that their conversation about having a crush on each other was a little too personal to be aired on camera.
But now people are officially "shipping" the dance partners.
Alexis' admission of her feelings proves everything fans suspected — that there are some feelings developing between the duo. Even Alan admitted that he enjoyed dancing with Alexis. "Alexis' smile lights up the whole room," Alan said during the episode.
However, Alan was a bit more hesitant to speak his mind about his feelings for Alexis. "I want to be 100 percent certain before I tell her what I'm feeling," Alan said. "I have a lot to think about."
Hopefully that thinking won't take too long — based on the reactions on Twitter, it seems like everyone is waiting for Alexis and Alan to say that they're dating. But so far, both of them are playing coy, according to the Daily Mail, and Alexis refused to answer questions about their relationship before the episode on Monday night.
It would make sense for the partners to be together. Both Alexis and Alan are reportedly single and are rumored to be dating each other. People must be convinced that they are dating for a reason — from the moment they first met in front of the cameras, it was clear there was just a bit of chemistry between them.
Although fans questioned whether or not the duo would still be on the show after they landed in the bottom two this week and last week, there's nothing to question about Alexis' feelings for Alan. It's clear that something is there and their partnership just keeps getting stronger week after week. Fans can only hope that Alan will finally admit his feelings for Alexis next week since the couple is sticking around for another dance.