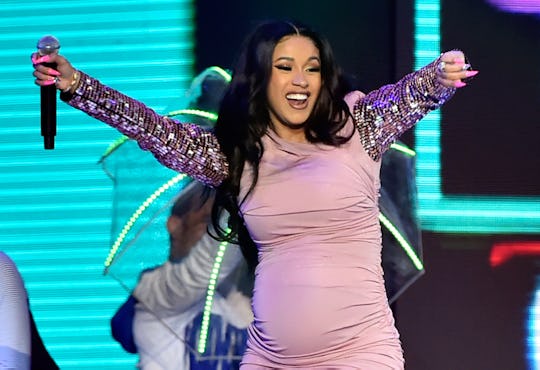 David Becker/Getty Images Entertainment/Getty Images
All Of Cardi B's Bump Photos So Far Show She's Doing Pregnancy In Style
Long before Cardi B announced that she was pregnant on Saturday Night Live, fans had long just assumed she was expecting. After trying to tell fans that she was just "getting fat" and taking selfies from the chest up, it was so exciting to see that the world really was going to get a little Cardi. Since that live announcement, Cardi B's pregnancy photos have flooded the internet as she flaunts her stuff. Although she sometimes complains that she's uncomfortable or wants to just sleep all day (who does't?), the rapper is always stunning in her pregnancy photos. Which is precisely a collection of them all in one place is so necessary.
Although she made some appearances while pregnant, in late April she announced that she was done taking the stage. She tweeted, "Okay so i might be off from doing performances for a couple of months but in the meantime imma be working my ass off. So many songs, features to do. Working on a lot of deals i sign up for and most importantly nesting. I'm already overwhelmed from the new work."
But when you're a queen like Cardi B, work also means bestowing selfies upon us common folk, who just live to know what's going on our favorite rapper's world.
The Announcement
Cardi announced her pregnancy during the April 7 episode of SNL, which she performed at and hosted.
Making Faces
Days later, she made an appearance on Jimmy Fallon's show and did the monologue with him.
And Making The Rounds
The next day, she made an appearance at SiriusXM Studios in New York City, still showing off her pregnancy bump, according to Harper's Bazaar.
She Channeled TLC
Cardi B will officially go down as the first woman to twerk, while pregnant, at Coachella, according to the Revelist.
That's A ~$9,000 Dress
At the Latin Billboard Music Awards, she rocked the stage in a $8,990 Tom Ford Dress to perform "La Modelo" with Ozuna, according to XXL.
The Final Stage Look
Cardi's last performance before taking some time off during her pregnancy was at the Broccoli City Music fest in early May.
Who Manages To Look So Sleek While Pregnant?
Although she deleted all of her pics before May on Instagram, some savvy Twitter users saved them for prosperity.
Looking Saintly
Cardi B attended the Met Gala, whose theme was Catholicism and fashion, looking regal AF in Jeremy Scott.
Looking Relaxed
During an interview with Howard Stern, the Bronx-native revealed she was having a baby girl, according to E! News.
BTS On Set
Although she shared it later on in her pregnancy, this was her on the set of the video for "I Like It."
Solo Dance Party
She might not be taking the stage, but that doesn't mean she can't dance at home with her bump.
Frizzy Hair, Don't Care
Dancing is what Cardi was born for.
Feeling Lazy
It's not easy being a busy pregnant woman.
Unicorn Hair
As she gets closer to her due date, Cardi did it up for her fans in an Instagram selfie.
Just because she took time off from doing shows while pregnant doesn't mean that she wasn't busy throughout the whole experience. And she definitely plans on working post-baby, too. She said in an interview with Power 105.1's The Breakfast Club that she can't stand people assuming that she can't be a mom and a rapper. "It just really bothers me and it disgusts me because I see a lot of women online like 'I feel sorry for you. your career is over' and it's like why can't I have both? Why do I gotta choose a career or a baby? Why can't I have both. I want both." Cardi added in the same interview, in her typical fashion, "I'm a grown woman. I'm 25 years old. I'm a schmillionaire and I'm prepared for this."
Of course she is. Hopefully we'll get a few more pregnancy looks and selfies before her due date though, because she really does wear it well.