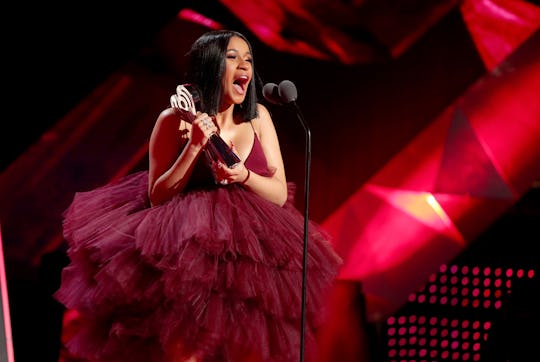 Christopher Polk/Getty Images Entertainment/Getty Images
Cardi B Has A Message For Fans Who Think Her Career Is "Over" Because She's Pregnant
Cardi B has had a more eventful year than likely anyone else in the world and she topped it all off this weekend by confirming her pregnancy on Saturday Night Live. Still, you can't make that many money moves without people trying to hate on you, as is evidenced by a lot of negative chatter about the rapper on social media. On Tuesday, Cardi B responded to fans criticizing her pregnancy and insisting that her career is "over" simply because she's going to be a mom soon. Because that's just ridiculous.
To take a step back for a moment, it's important to remember that rumors about Cardi B being pregnant have flooded tabloid covers ever since she started topping the Billboard charts with her way-too-catchy singles. She's denied them with each and every Instagram comment speculating about her reproductive health, most notably scolding fans to just let her "fat in peace" without assuming she was pregnant back in February.
Now that she confirmed her pregnancy on live, national, television, people are still questioning Cardi B's decision to have a child, along with speculating why she would keep the news under wraps for so long. The woman kind of can't win. First, people just couldn't handle a woman "having it all" — talent, success, and a partner — without her also being pregnant. And now that she is definitely pregnant, there's some pushback about what it will do to her newfound fame.
Cardi B had some words for those people during an interview with Power 105.1's The Breakfast Club on Tuesday.
The "Bodak Yellow" rapper told the radio hosts that her pregnancy was unplanned, but that she was ready to take it on. "I'm a grown woman. I'm 25 years old. I'm a schmillionaire and I'm prepared for this." And people who think this means she can't have a career in music simply because she's going to be a mom are severely mistaken. She said:
It just really bothers me and it disgusts me because I see a lot of women online like "I feel sorry for you. your career is over" and it's like why can't I have both? Why do I gotta choose a career or a baby? Why can't I have both. I want both.
Cardi B added that despite the fact that she might not have planned to be pregnant right at this very moment in her life doesn't mean that she doesn't want to be a mom, just like so many other women who decide to have kids when it happens. "I don't want to wait until I'm thirty-something to have a kid. I want my kid now that I have energy and stuff," she explained.
Editor's Note: The Instagram post has since been deleted.
The hate for her being a successful, pregnant, woman in music is very, very real. One fan commented on a recent Instagram post, "Nicki is coming GoodBye mami Go RAISE YOUR BABY," referencing Nicki Minaj, a fellow New York City-raised rapper releasing an album this week. Cardi B being pregnant and having a new album doesn't have to mean that there's immediate "feud" between her and another woman who isn't. The more people imply that it's impossible both women can be successful at the same, the more every feminist heart breaks.
Another person claimed that her outfit in the same Instagram post, a leather bodysuit with chain belts, was an attempt to hurt herself and her child, which is really next level when it comes to criticizing a woman. "She finna kill that baby with all those chains around her stomach," they wrote. Scrolling through the comments on Cardi B's Instagram posts will make you rethink people's goodwill sometimes. It's great that Cardi B knows how to stand up for herself and her lifestyle choices, but she really shouldn't have to do it so often. Yet, she handles it with her own brand of grace.
Editor's Note: The Instagram post has since been deleted.
Other people totally get it, which is a good sign that the world is not doomed to shun women in the spotlight who also choose to have children.. One fan wrote on another post of her unwrapping some baby gifts from Jimmy Fallon, "I loved your interview with Hot 97 because that's exactly how I felt with my first born child at 25. The way you spoke about being a grown woman, having your career and abortion not being an option I respect it because those were my exact words!" Another fan added on that same post:
Cardi b omg !! Yess !!! Omg you look amazing and girl you doing everything at once and growing I'm in love with your grind your hustle your hard time and your come up !! New album is my gym songs favs and I love you.
Now that's the attitude women should have for each other when they hear their fave announce a pregnancy. "Having it all" might be an ideal some women are forced to strive for, but that doesn't mean that women can't give it their best shot by having kids and a career all at the same time if they want to. Cardi B wants to right now, and fans should be happy for her.
Check out Romper's new video series, Bearing The Motherload, where disagreeing parents from different sides of an issue sit down with a mediator and talk about how to support (and not judge) each other's parenting perspectives. New episodes air Mondays on Facebook.