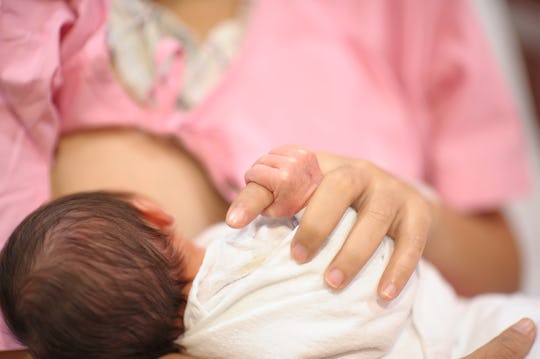 sweetlemontea/Fotolia
All The Breastfeeding Stuff You'll Need If You're Nursing For The First Time
Breastfeeding, while often celebrated for being "easy" and "low-maintenance," requires planning, time, patience, support, and, sometimes, a lot of "stuff." Whether it's for comfort, practicality, or modesty, it's hard to know where to start when considering what, and what not, to purchase. With all the gadgets and products aimed at supporting breastfeeding mothers, where does a new mom begin? If you're not sure, or have no clue about all the breastfeeding stuff you'll need if you're nursing for the first time, worry no more. We (read: the experts) have you covered.
While breastfeeding is often described as "natural," it's hardly an easy, innate experience. In fact, it's common to endure more than a few complications that can make nursing anything but "easy." And sometimes, without the proper help or specifically designed products, it's difficult to make it through the first nursing session, let alone months and months of breastfeeding. First-time mothers don't always know what's necessary and what's unnecessary hype, though, which can make setting oneself up for nursing success all the more challenging.
A lot of new moms will tell you that breastfeeding can be hard in the beginning, but if you have a support system, a plan, and a lot of patience, your chances of making it over those initial hurdles are high. So truly, the best "stuff" you could give yourself when you're nursing is knowledge, support, and self-care. But if you're looking for some material goods that may assist you in reaching your breastfeeding goals, here's all the stuff you'll need for your first time nursing.