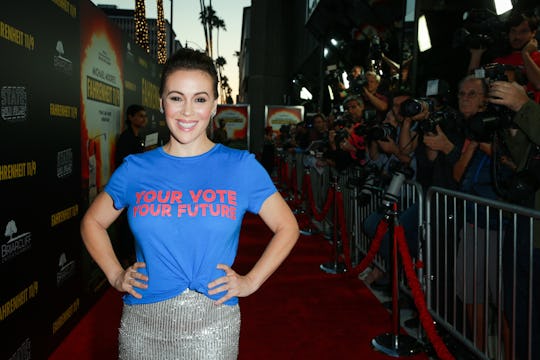 Rich Fury/Getty Images Entertainment/Getty Images
Alyssa Milano & Her Daughter Are Literal Twins In Adorable Instagram Post
I might be dating myself here, but I remember Alyssa Milano from her years of playing Samantha Micelli on Who's The Boss. I believe she and I are around the same age (though it's possible one of us has managed to look a little better and I'll let you figure out who), so I have fond memories of her as a kid. And after seeing Alyssa Milano and her daughter in a recent Instagram post, it was honestly like seeing her as a little girl all over again. They look like adorable twins, which totally gave me some flashback vibes.
Milano is mom to two kids with husband David Bugliara, 4-year-old daughter Elizabeth and 7-year-old son Milo, as E! News reported. The activist and Insatiable actress is pretty sparse with the amount of information she allows to be released about her two kids, which might be unsatisfying for her followers but is actually beautifully respectful of their privacy. Since photos of Milano's two kids tend to be fairly rare, it feels like a real treat any time she shares something. Especially a picture of herself twinning with her little girl in this recent Instagram post. I mean, check out those matching smiles. How cute is that?
I'm not the only person who sees an extraordinary resemblance between Milano and Elizabeth (who her mom refers to as "Bella"). Fans took to the Charmed actress' Instagram post from Friday to discuss how much they resemble each other.
Awesome little lady you have Alyssa! She looks just like Mommie
Wow she is your double!
She looks just like you when you were little!
she looks so much like you.. such a little beauty
For those of you who don't see the resemblance, please enjoy this clip from the early years of Who's The Boss and then get back to me.
Beyond being her mom's little twin, it seems young Elizabeth has also acted as something of an inspiration for some of Milano's most important work; as an advocate for sexual assault victims. As reported by The Guardian, in October 2017, Milano was one of the women who lead the #MeToo movement with a simple tweet suggesting "if you've been sexually harassed or assaulted write 'me too' as a reply to this tweet."
And we all know what happened next... the floodgates opened. Millions of women across the planet shared their stories and began to advocate for change. Why did Milano do it? Because of her daughter. As she explained in a moving video message to Elizabeth in 2017, as per People:
One night when I was lying in bed with you, I looked down at you and your sweet, beautiful face, and I got really scared. I got scared for you, and I sent out a tweet asking for women to stand in solidarity, and a lot of people replied. So in a way I wanted to make this video for you because in a way all of this is because of you, because you gave Mama the strength.
Like most women, Alyssa Milano plays many roles in her life. Activist, actress, producer, designer. But there's one role that is clearly vitally important to her. Being a mom, and making sure the world is a better place for her little twin as she grows older.
Tony Micelli would be so proud.
Season 2 of Doula Diaries shares the stories of fearless doulas helping their clients take control of their births and make tough choices that feel right to them. Watch the first episode of the new season Monday, November 26th.