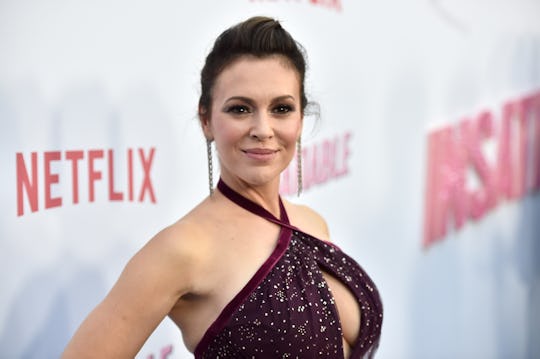 Alberto E. Rodriguez/Getty Images Entertainment/Getty Images
Alyssa Milano's Rise Up For Roe Speech Targeted Trump's Supreme Court Nominee
"I think the fact that we're even talking about this is f—king absurd." Actress and activist Alyssa Milano was met with cheers from the audience after making that declaration during a panel at a Rise Up For Roe Tour event in Los Angeles on Saturday. Among that statement and many other feminist AF gems, Alyssa Milano also expressed disdain for Brett Kavanaugh, aka President Donald Trump's Supreme Court nominee.
The Rise Up For Roe Tour is a series of "uncensored, no-holds-barred live show[s]" currently touring the country, according to its website. Each show features a panel of notable women discussing the threat of overturning Roe v. Wade that Kavanaugh's possible confirmation presents. Roe v. Wade is the 1973 landmark Supreme Court decision that granted Americans with the right to safe and legal abortions, as explained on Planned Parenthood's website. At Sunday's event, which was moderated by journalist Lauren Duca, panelists included Milano, Cecile Richards, Jessica McIntosh, Jessica Morales Rocketto, and Meagan Hatcher-Mays, Deadline reported.
The speakers all got pretty passionate throughout the discussion. When the topic of Kavanaugh's potential Supreme Court appointment came up, Milano declared that it would "literally affect everything we know to be true as American citizens," according to Deadline. As seen in the Facebook Live of the panel, Milano believes that the key to fighting against Kavanaugh's appointment is to "empower people to get into action and call their representatives to demand that this guy does not get through. Seriously."
Milano continually called it "absurd" that abortion rights are still being debated in the United States. "My mother's generation fought for my generation to not have to make this fight anymore," she said, as seen in the Facebook Live. "And the fact we still have to fight for my daughter's generation to not — it drives me crazy."
So, what does Milano think people who care about preserving Roe v. Wade should do? She explained that people need to use their platform — no matter how big or small. She told the audience, as seen in the Facebook Live:
I think we all have to use our own power. We've seen what happens when people come together and support each other. We all have to use our own platforms, whether that be 3 million on Twitter, or six around the dinner table, or 12 around the water cooler at the office. And we have to be able to educate and empower people to want to make the right choices.
Cecile Richards, president of the Planned Parenthood Federation of America, told the audience that contacting their state senators is the "single most important thing that you can do," The Hollywood Reporter noted.
Additionally, Richards shared an important reminder about who would actually be affected should Kavanaugh be appointed and the SCOTUS overturn Roe v. Wade. She said, according to The Hollywood Reporter:
What we do know is that when decisions are made like overturning Roe that Judge Kavanaugh would be a part of, it doesn't affect wealthy women ... the folks that are going to be affected are those that have the least access to healthcare, civil liberties, everything. That's why this is about equality and justice.
In late June, Justice Anthony Kennedy announced that he would retire from the Supreme Court on July 31. Though Kennedy was conservative, he was the Supreme Court's swing vote on many human rights issues including same sex-marriage and abortion access, CNN reported. When Trump was campaigning, he said he would only nominate Supreme Court justices who would try to overturn Roe v. Wade, effectively making it illegal to obtain safe and legal abortions in the United States, Vice explained. Kavanaugh has made his anti-abortion stance clear on multiple occasions, most recently when he disagreed with a ruling allowing an undocumented 17-year-old girl to obtain a legal abortion, Politico reported.
It's clear that Kavanaugh and Trump have plans in the works to overturn Roe v. Wade — but with activists like Alyssa Milano and Cecile Richards fighting against them, they'd better watch out.