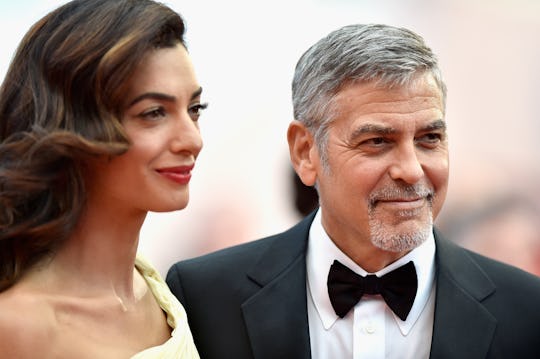 Pascal Le Segretain/Getty Images Entertainment/Getty Images
George & Amal Clooney Reveal Twins' Genders
It's been a cascade of good news for one famous power couple lately — some would even say twice the happy revelations. After sharing that they will soon welcome twins into their family, Amal and George Clooney have revealed their babies' genders and kept the celebratory announcements rolling. Actually, it was Clooney's mother who told RadarOnline.com that the pair is expecting a boy and a girl in an exclusive phone interview, as reported Thursday.
"It will be one of each!" Nina Clooney told the outlet from her home in Augusta, Kentucky. "Yes, a boy and a girl. That's what I've been told. How marvelous! My husband and I are extremely excited."
The legendary actor and his prominent human rights lawyer wife confirmed rumors that they were expecting, which had been building for weeks, through host Julie Chen of The Talk last week. She also clued audiences in, during the daytime talk show, on the exciting fact that the babies are due sometime in June. At the time, The Times of London also reported that the twins were a boy and a girl, citing unnamed sources who claimed to be friends of the couple. And, apparently, they were right. Now, if only we could get those close to Beyoncé and Jay Z to provide some deets about the twins they have on the way...
In the interview, Nina Clooney joked that her 55-year-old son, who is about to become a father for the first time, is light years behind his sister — the mother of a 25-year-old and a 20-year-old — in the parenting department. But before he and Amal married in 2014, the Gravity actor hadn't exactly been on board with the idea of having a family. In fact, having divorced once, he was pretty certain he didn't want to do the whole marriage thing again, either.
"I don't expect to ever get married again or have children," he said in an interview in 2008, according to NPR affiliate WVXU. "I am never at home and every woman gets sick of it ... If I was them, I would never put up with me for long — and they don't."
Clearly he's had a change of heart on both fronts. Instead of living out a carefree childless bachelorhood, he is very likely now considering baby names along with Amal. But whether they've chosen the names and what they are is a tidbit he and Amal aren't sharing — not even with the soon-to-be babies' grandma. "I haven't been told their names," Nina Clooney told RadarOnline.com. "That is George and Amal's department."
The public will have to wait anxiously until June, or maybe even beyond, to find out.