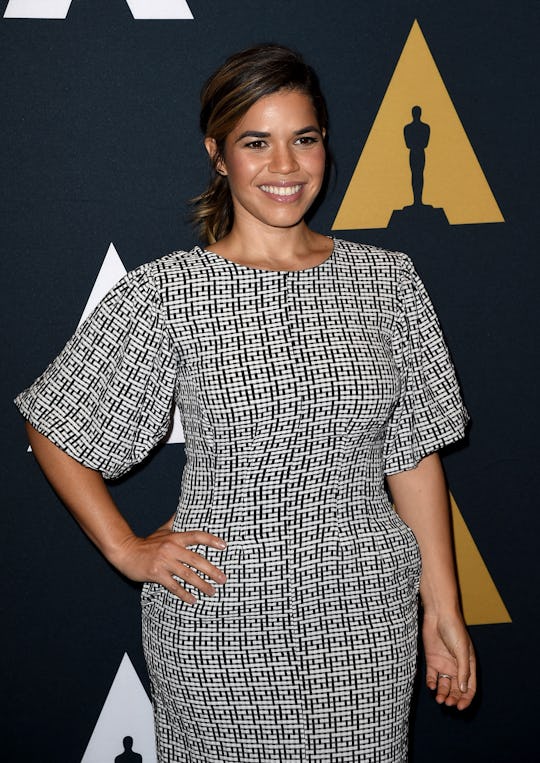 Kevin Winter/Getty Images Entertainment/Getty Images
America Ferrera Shared Photos Of Her Baby Shower, & She Looks So Ready To Be A Mom
On New Year's Eve, America Ferrera announced that she and Ryan Piers Williams are expecting their first child. The actress and her director husband have kept fans updated on Ferrera's pregnancy over the past two-and-a-half months — Ferrera has shared a ton of photos to Instagram documenting her time expecting, including pictures with her The Sisterhood of the Traveling Pants costars, her maternity looks at awards shows, and from the set of Superstore. All that being said, it's no surprise that America Ferrera shared photos of her baby shower this weekend. And by the looks of the photos, Ferrera and Williams are so ready to be parents.
Ferrera took to Instagram to share a carousel of 10 photos of her shower, which went down at the restaurant Beauty & Essex Los Angeles. "No poopie diaper games here. Just dancing, drinking (water for me 🤗), and some of the people we love to celebrate the little human we can't wait to meet," she wrote alongside the album of pictures. "@beautyessexla was a gorgeous place to celebrate (👈🏽not being paid to say that)," she added. "And get you an amazing friend like @elsamariecollins who always shows up for you and throws the best parties!"
In the first photo, the two parents-to-be are making goofy faces for the camera.
The album is also filled with a few other photos of the happy couple, who look positively thrilled, and so excited to be parents. Fun fact: Ferrera and Williams celebrated their 12-year-anniversary in June 2017, so the couple likely has a strong foundation as they enter the parenting chapter of their lives.
Next, Ferrera posted a super cute solo shot showing off her bump, followed by a photo with her friend and party planner Elsa Collins. She also shared a photo with her "Ugly Betty family," including Ana Ortiz (who played Ferrera's character Betty's sister Hilda) and Mark Indelicato (who played Betty's niece and Hilda's son Justin).
Additionally, Indelicato posted a photo from Ferrera's baby shower alongside Parks and Rec actress Retta.
Editor's Note: The Instagram post has since been deleted.
Ferrera once challenged Retta in the #Ham4All challenge that spread across the internet last summer. Retta posted a photo from the shower as well, with a super cute "love" balloon.
Ferrera also shared a photo with her "Superstore family," of which seven members made it to the shower. She also included a shot with her siblings, with "the grandparents," and of "the roasting." Unless the party featured a giant pig roast, the roasting likely means Ferrera and Williams asked friends to "roast" them — nothing like being insulted to keep your ego in check before becoming a parent, right?
Even though some moms-to-be opt to only invite women, girls, and female-identifying guests to their showers, Ferrera's shower was co-ed. Inviting men (including the baby daddy) to a baby shower has become much more commonplace in recent years. In fact, some even find the women-only baby shower to be regressive, as it reinforces gender stereotypes. In an essay published on Role Reboot entitled "My New Rules For Attending Bridal And Baby Showers," the author explains:
We live in a time when we want men to be equal parents and partners, but we leave them out of opportunities where they might gain understanding of everything they'll need to know as parents or partners. We princess-erize the bride, mom, or baby. We reinforce gender stereotypes down to ensuring the party reflects the gender of the baby, or the design theme of the baby's room. How did we get so privileged?
That being said, gender-segregated parties celebrating milestones like having a baby or getting married are rooted in tradition, and there's no reason to judge anyone for choosing to engage in the practice. It's awesome that Ferrera had her baby shower on her own terms, and here's hoping she treats fans to photos of her adorable baby once they arrive.
Check out Romper's new video series, Bearing The Motherload, where disagreeing parents from different sides of an issue sit down with a mediator and talk about how to support (and not judge) each other's parenting perspectives. New episodes air Mondays on Facebook.