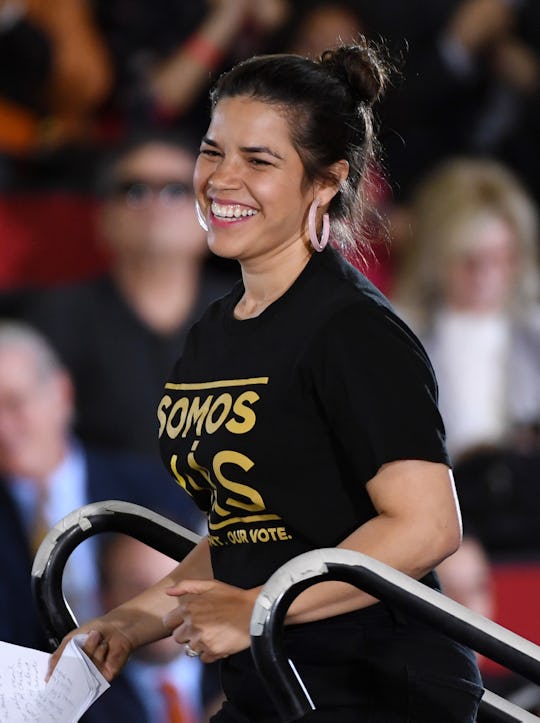 Ethan Miller/Getty Images News/Getty Images
America Ferrera Nailed What It's Like To Go Back To Work After Giving Birth
America Ferrera might be a celebrity mom, but I get the feeling she might understand the struggles of a regular mom all too well. Maybe because she's one of those truly empathetic people or maybe because she's drawing from her own experience, which perhaps isn't quite as different as we might think. Because let's face it: babies don't care if you're a celebrity. They're going to do their thing regardless, and moms are just expected to keep up. And America Ferrera's message to working moms "juggling and hustling" sounds just about right to this working mom.
The actress and mom of 6-month-old baby boy Sebastian with husband Ryan Piers Williams took to Instagram on Wednesday to share a clip from her NBC show Superstore. As fans well know, Ferrera plays Amy, a harried employee at her local superstore.
In the clip Ferrera shared on Instagram, Amy has just given birth and is running on no sleep. Her body is doing all the terrible things a woman's body does after delivering a human. And a fellow employee named Glen wants to make her feel better... by offering her a bath bomb. Amy explodes on Glen with a litany of all the ways she is falling apart, none of which will be cured by a bath bomb.
Ferrera captioned the clip with an important message for working moms:
I went back to work 10 weeks after having my son, and I simultaneously knew how lucky I was to have that much time compared to what so many women get (which in some cases is absolutely nothing) and how sad it is that we don't have more help & support built into our culture to honor the truly challenging and Herculean feat of bringing life into this world and caring for it. To all the Amys out there: I see you, I worship you, you are everything.
She closed her message with the two important hashtags, #keepyourdamnbathbomb and #givemomsmaternityleave.
Unsurprisingly, loads of moms chimed in to share their love for her message and acting in this scene.
"I just keep watching this over and over and laughing and crying because this is on the money," one fan commented.
Another chimed in, "Thank you for being a voice for working moms everywhere! You can't adopt a puppy before it's eight weeks, and yet one in four mothers is back to work in less than four weeks."
"I HAVE NEVER RELATED MORE TO ANYTHING BEFORE THIS. THANK YOU @americaferrera ILY❤️," yet another wrote.
I think it's so important that Ferrera acknowledges in her post that not all working moms have the benefit of support, either financial or emotional. She knows a little something about this issue, as a matter of fact.
Ferrera was raised by a working mom herself, Ayes Ferrera, which means she understands how tough it can be not just as a mother but as a daughter. Ayes instilled in her daughter a solid work ethic from a young age, as the Sisterhood of the Traveling Pants actress told Esme:
My mother taught me the importance of hard work. My father, Gregorio, walked out on us when we were kids so it was all down to her. [My mom] never took benefits and worked all her life, right up to today.
America Ferrara knows how hard it is for new moms to go back to work so quickly after having a baby. And as funny as her clip from Superstore might have been, it also highlights a painful reality for many moms. Heading back to work before you're emotionally or physically ready to do so. The fact that so many mothers in America are still in this position is appalling.
And good for America for pointing that out.