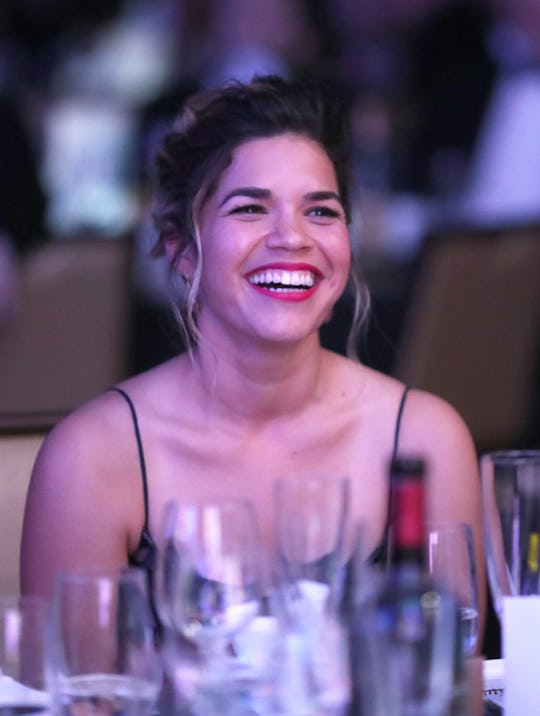 Christopher Polk/Getty Images Entertainment/Getty Images
America Ferrera Penned An Empowering Little Ditty Tackling The Stigma Of Public Breastfeeding
America Ferrara always has the best timing. Right on schedule to help wrap up World Breastfeeding Week, the actress has posted a heartwarming photo of her and her baby nursing. Beyond being a totally sweet snap, America Ferrera tackled the stigma of public breastfeeding in the most adorable way.
Along with an Instagram photo showing the burgundy-clad star nursing her baby, Sebastian "Baz," dressed adorably in a black-and-white onesie, Ferrara posted a sassy little ditty of her own: "🎶They're my boobies, and I'll feed where I want to- feed where I want to - feeeeed where I want to...🎶 #worldbreastfeedingweek," she captioned the photo.
I love this, but would anyone have expected anything less of the Superstore star? The 34-year-old actress and filmmaker husband, Ryan Piers Williams — who welcomed baby boy Sebastian Piers in May, according to People — have always been willing to speak up for causes that are important to them. For example, the couple — who wed in June 2011, according to People — participated in this summer's Keep Families Together march in Washington, newborn and all.
In her latest Insta pic, Ferrara looks to be out and and about, breastfeeding in public, as you can see what might be her grey-and-black stroller behind her. But wherever the star was when the shot was taken, mission accomplished — fans loved the image!
"Yes girl! You are such an inspiration in so many ways," one fan commented.
Another chimed in, "Darn right."
One more wrote, "As a nursing new mama to an 8 week old who is about to take her first solo flight with baby...I appreciate this❤️Feed away."
Although breastfeeding in public is finally legal in all 50 states, according to USA Today, American moms still face many barriers and a stigma surrounding nursing in public still exists. That's why it's super important and so refreshing that celebs such as Ferrara use their platform to help normalize breastfeeding.
While it's always appreciated when celebrities try to help a cause, the star of Ugly Betty and Sisterhood of the Traveling Pants has never been one to arrive late to a meaningful and important movement. For example, she's posted in support of the March on Washington, Black Lives Matter, and the #Time'sUp movement to end sexual harassment, all of which she's shared on Instagram.
Recently, she has also taken the director's chair on Superstore, helming her second episode of the show to date and indicating an interest in moving behind the camera, according to Variety. Ferrara has also anchored a brand-new book called American Like Me, which is full of essays about growing up between different cultures, in her case the United States and her parents' native Honduras, according to Simon & Schuster. The book includes memoirs from Ferrara and other celebs from other celebrities of mixed nationality, including Uzo Aduba of Orange Is the New Black, as explained by Simon & Schuster.
In addition to all that, Ferrera also seems like a ton of fun. It seems that she's seriously close to her STP crew — Alexis Bledel, Blake Lively and Amber Tamblyn, all of whom are now moms of young children themselves. In fact, Ferrara explained that she's gotten lots of baby advice from her former co-stars. "Of course, my Sisterhood gang," Ferrera told Us Weekly, "They're a go-to for me. Just one text message away, and I ask them a million questions all the time."
While I sure would love to participate in that playdate or group chat, it's just nice to see Ferrara thriving, both in her life and career. And the fact that this multi-tasking mama uses her celebrity to bring awareness to important issues and take down the stigmas surrounding public breastfeeding just makes you love her even more.