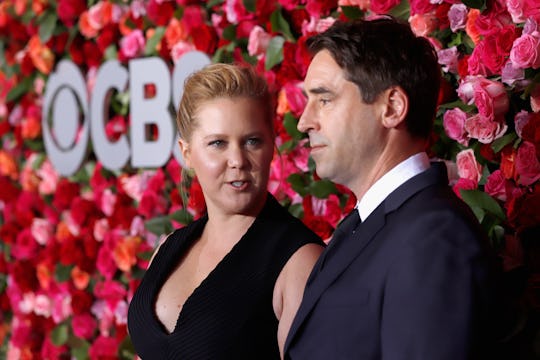 Jemal Countess/Getty Images Entertainment/Getty Images
Amy Schumer's Quotes About Her Husband Prove They're Perfect For Each Other
I'll be the first to admit it: I had no idea who Chris Fischer was before he and Amy Schumer got married earlier this year. Heck, I was so out of the loop that I hadn't even realized she was dating anybody at the time — let alone that she was engaged. However, in the months since their low-key nuptials, the I Feel Pretty actress has opened up quite a bit about their relationship. And honestly? Amy Schumer's quotes about her husband Chris Fischer prove they're perfect for reach other.
Even though they're currently expecting their first child together, Schumer and Fischer are still newlyweds by most people's standards. Schumer and Fischer tied the knot on Feb. 13 in Malibu. They only spent about three or four days planning their low-key wedding, opting to send invitations to guests via text message, according to Cosmopolitan. The bride-to-be reportedly sent friends and family a text that read, "I'm getting married on Tuesday. I hope you can come." Roughly 80 guests attended the last-minute event — and apparently, their vows were pretty epic. "Mine sucked! I thought mine were good, I wrote mine in like, 20 minutes. I was crying when I wrote them, but his blew me out of the water so hard," Schumer told Nikki Glaser during her SiriusXM show, You Up with Nikki Glaser, according to E! Online.
Glaser, who was actually one of Schumer's wedding guests, replied, "I remember a joke from yours. You go, 'You make me laugh, you make me smile, you make me feel loved, you make me food." (Which, LOL.) Schumer added:
In my vows I go, 'But I promise I'll keep going down on you, even though everyone tells me I won't.' And his were like, heckling me too. He was like, 'The other day I lost a tennis match and you called me a f*cking loser.' It was all like, awful sh*t. All his stories about me that were supposed to be endearing were about me screaming at him.
Clearly, they were meant for each other. Right?
In case you weren't aware, Fischer is a chef who has written an award-winning cookbook titled The Beetlebung Farm Cookbook: A Year of Cooking on Martha's Vineyard. During an appearance on LIVE with Kelly & Ryan, Schumer opened up about how amazing it was to have a chef as a husband. "What a good idea to marry a chef. Right? I'm sorry, it's the best," she said in April.
"So you never have to cook, right?," Kelly replied.
"I never have, and I never will now. Yeah. It's great," Schumer said. "It took me a while to get used to, 'Wait, you want to make dinner?' He's like, 'No, I love doing this.' I'm like, 'But you could be laying down?' But no, he loves it."
In case you're still not convinced these two were meant to be, here's further proof. As ET Online reported, Schumer took to Instagram in August to share a sweet photo of herself and her husband in honor of their six-month anniversary. "Married 6 months today. I love you more every day. Sorry my fart woke us up this morning 🙋🏼👩🏾‍🌾," she captioned the post. (Judging by that huge grin, he doesn't seem to mind waking up to her farts one bit.)
Then again, Fischer was made aware of Schumer's unique sense of humor pretty much from the get-go. As Good Morning America reported, the pair actually met through Schumer's assistant, Molly — who happens to be Fischer's brother, Schumer revealed on the Howard Stern Show. Molly suggested that Fischer may be interested in cooking for Schumer when she took a trip to Martha's Vineyard in fall 2016. "I went really out of my way to make sure he knew I wasn't flirting with him," she told Dax Shepard during his Armchair Expert podcast. "You know, I'd be like, 'Oh, I haven't s--t in three days. Just really hitting him with the hotness." Ultimately, though, the duo began planning the menu for a birthday party for one of Schumer's friends — and that's when the "something more" connection was made.
Obviously, Chris Fischer shares Amy Schumer's amazing sense of humor. Add this to the fact that he's an award-winning chef, and she would rather order take-out than cook a meal, and they're a match made in heaven. Honestly, I can't wait to see how this dynamic duo grows together as they embark on parenthood in 2019!
After a very frustrating first birth experience, this Deaf mother wanted a change. Will the help of two Deaf doulas give the quality communication and birth experience this mom wants and deserves? Watch Episode Four of Romper's Doula Diaries, Season Two, below, and visit Bustle Digital Group's YouTube page for more episodes.