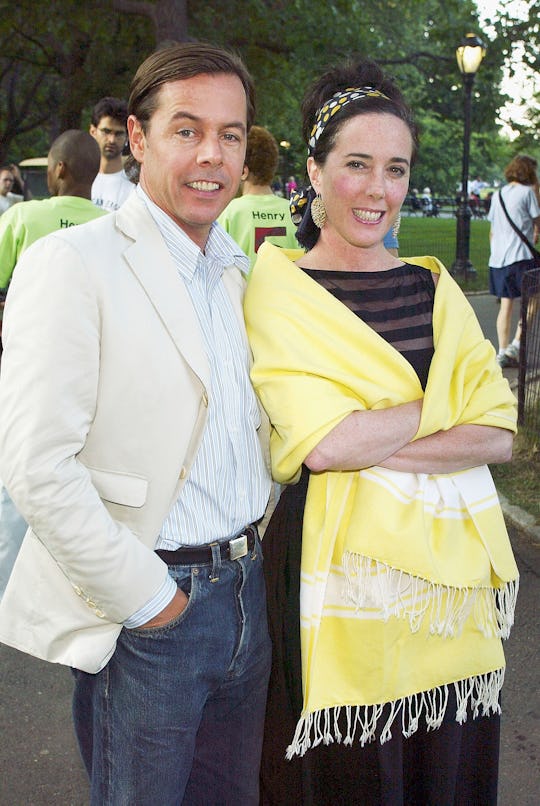 Scott Gries/Getty Images Entertainment/Getty Images
Andy Spade's Statement Following Kate Spade's Death Is All About Protecting Their Daughter
Kate Spade, the legendary designer, died of an apparent suicide in New York City on Tuesday. At 55 years old, Spade was the mother to 13-year-old Frances Beatrix and had been married to her husband Andy for 24 years. People shocked and heartbroken by the handbag designer's death have been leaving posts on social media about the impact she had on their lives, but it wasn't until late Wednesday that Andy Spade's statement following Kate Spade's death was made public.
Spade gave a statement to E! News saying, "Kate was the most beautiful woman in the world. She was the kindest person I've ever known and my best friend for 35 years. My daughter and I are devastated by her loss, and can't even begin to fathom life without her. We are deeply heartbroken and miss her already."
He added in the statement that she had "suffered from depression and anxiety for many years" but was "actively seeking help and working closely with her doctors to treat her disease, one that takes far too many lives." Spade added that he and his daughter were in "complete shock" when they heard the news, according to E! News, and that they did not notice any signs that she was contemplating suicide. Most people who die by suicide do exhibit some warning signs, according to the Suicide Awareness Voices of Education (SAVE).
Those signs include: talking about feeling hopeless or having no purpose, talking about feeling trapped or in unbearable pain, talking about being a burden to others, and an increased use of alcohol and drugs. Sleeping too much or too little, along with acting anxious, can also be a sign that someone needs help, according to The National Suicide Prevention Hotline.
Spade clarified some misinformation that had been circulating in the media surrounding the circumstances of his wife's death. He added in his statement to E! News:
This is the truth. Anything else that is out there right now is false. [Kate] was actively seeking help for depression and anxiety over the last 5 years, seeing a doctor on a regular basis and taking medication for both depression and anxiety. There was no substance or alcohol abuse. There were no business problems. We loved creating our businesses together.
The designer's husband added that he and Spade had been separated for almost a year, according to The New York Times, but that he lived just blocks away and that they ate many family meals together. Their teenage daughter lived with them both. "Our daughter was our priority. We were not legally separated, and never even discussed divorce. We were best friends trying to work through our problems in the best way we knew how," he added in his statement to E! News.
According to SAVE, there is never a singular "reason" for suicide. "Suicide does not have one single cause. Certain factors like substance abuse and untreated depression can lead to higher risk of suicide just as having a robust social circle can help protect you from suicide," the organization explains.
He added in his E! News statement that they were co-parenting their daughter and that his main concern at the moment is protecting her privacy "as she deals with the unimaginable grief of losing her mother." In a previous family statement to The New York Times the family said:
We are all devastated by today's tragedy. We loved Kate dearly and will miss her terribly. We would ask that our privacy be respected as we grieve during this very difficult time.
Spade launched her eponymous line in 1993 with her husband and business partner Elyce Arons. Within a few years, they had opened a shop in SoHo, a neighborhood of Manhattan, and were winning major fashion awards, such as the rising talent award by the Council of Fashion Designers of America in 1995 and Accessory Designer of the Year in 1997 at the Accessories Council's ACE Awards. In 1999, the Spades sold shares of the company to the Neiman Marcus Group after posting $28 million in annual sales, according to NPR.
Since then she had dedicated herself to philanthropy through the Kate Spade & Company Foundation, which works for economic equality for women. In 2016, according to Adweek, she, along with her husband, launched a new accessory label named after her daughter called Frances Valentine.
If you or someone you know are experiencing suicidal thoughts, call 911, or call the National Suicide Prevention Hotline at 1-800-273-8255.