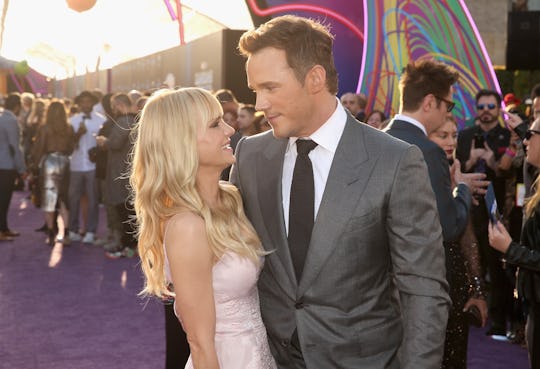 Jesse Grant/Getty Images Entertainment/Getty Images
Anna Faris Just Revealed How She & Chris Pratt Are Doing Following Their Split
When news broke earlier this year that Anna Faris and Chris Pratt were splitting up after eight years of marriage, people were rightfully shook. Sure, it's a little weird to be heartbroken when two complete strangers breakup. But this is 2017, after all, and the last thing people needed was to hear that the seemingly "perfect" duo was divorcing. Months later, Faris is opening up about her split from Pratt and it seems like they're doing this whole uncoupling the right way.
Of course, there is no "right way" to be married or split up. But whatever they're doing seems to be working. Faris told People that things are amicable between them still. "There is still so much laughter in our lives together, and he is so proud of me, still. We watched each other grow, and he still cracks me up all the time," she told the magazine.
The 40-year-old actress added, "And I think I crack him up — unless he's a really good actor and great at faking laughter." It's safe to say that's not the case, since Faris is pretty hilarious herself. The Mom star has her own relationship advice podcast called Unqualified and is releasing a book later this month by the same name.
It's part memoir and part advice — it documents how she and Pratt met, fell in love, and became a family. Pratt actually wrote the forward to the book and lauds his ex-wife for all of her accomplishments.
Pratt writes in the forward that he and Faris are going to be "just fine" and they they plan to "amicably co-parent a human" together. (Their son Jack is 5 years old.) Faris adits that she was a little nervous about having her ex write the forward. She said in her People interview, "At first I thought, 'Oh my gosh, this is crazy timing.' Now it sort of feels like maybe in a way everything that's happened helps bring it full circle."
Faris added, "I am so grateful that he contributed to the book. Chris and I are really great friends, and I think that we always will be." No matter what's going on in their relationship, they're both obviously committed to keeping things sane and normal for Jack.
In August, People reported that a source close to the couple said that the two were going to couple's therapy — even after they had announced their split. A source said:
They are going through couples counseling now, which is what you do when you want to divorce and there are children involved. It won't likely change the status but it could help with their future co-parenting. Their work separations have taken a toll, and it is not likely that the marriage can be repaired enough to work right now. But there is still love between them.
It makes complete sense to head to couple's therapy to work out the kinks of co-parenting after separating. Studies show that it's best for young children if parents share custody of kids post-split, and although it's a great way to keep things stable in their lives, it can be all sorts of traumatic for the grown-ups involved. Even the most loving breakups can leave a mark.
Then again, no fan really knows what their deal is, as much as they might feel totally connected to the couple from afar. Faris gets it. She told People that she understands the public's response to any news of her love life:
It's understandable that people seemed so invested in our happiness together. All I can say about that is, it's all true, that we truly adore each other, and we love each other, I think it still comes through.
It really does. This has to be a crazy hard time for their entire family, but Faris is making this whole divorce thing look easy. Maybe she's more qualified to dole out relationship advice than she thinks .
Watch Romper's new video series, Romper's Doula Diaries:
Check out the entire Romper's Doula Diaries series and other videos on Facebook and the Bustle app across Apple TV, Roku, and Amazon Fire TV.