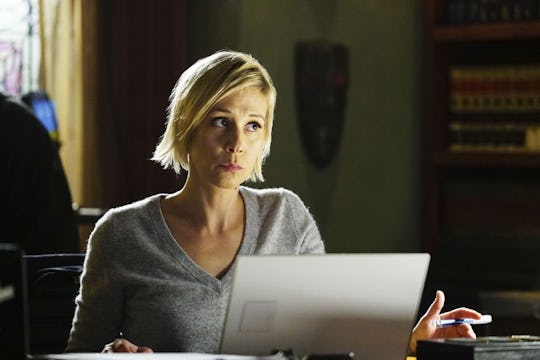 ABC/Richard Cartwright
Annalise & Bonnie Kiss On 'How To Get Away With Murder' & Twitter Lost Its Chill
Just when you think Annalise has made out with everyone she possibly could, the match up fans always wondered might happen, actually happened. Annalise and Bonnie kissed on How To Get Away With Murder and Twitter lost it. Mostly because some never saw it coming, but also because it literally came out of nowhere. Annalise is free to make out with whoever she wants, of course, and she has enough swagger to do it, but what was the purpose of Annalise and Bonnie kissing now? If nothing else, it will just aid in further confusing poor Bon Bon.
It's kind of gotten to the point where Annalise has some sort of sexual chemistry with almost anyone she gets close with. (Mostly because Viola Davis is so darn charismatic.) In fact, it wasn't that long ago that fans were wondering if she and Wes would get together eventually. And while a part of you might be shouting that he's basically her son, something tells me that HTGAWM would've dared to do it anyway.
So what made Annalise kiss Bonnie in the first place? Bonnie had just told her how much she cares for Frank and throughout the entire episode Bonnie had made it clear that she was protecting Frank as best as she could. So, in my opinion, it was likely just a momentarily bout of jealousy since Annalise likes to have everyone and everything center around her. (I love her but it's true.) And Twitter had a lot to say about the kiss.
It's likely that the kiss between Annalise and Bonnie on HTGAWM was more about Annalise feeling vulnerable and wanting to be close to someone than actually being attracted to Bonnie, but you never know. Overall, though, it wasn't all that surprising. It's like Murphy's Law of Annalise. Whoever she can make out with, she will make out with. And while no one is really saying no to a kissing scene between Annalise and Bonnie, neither of them need that added drama right now, so let's just not. Don't they both have enough going on as it is?
Annalise and Bonnie's kiss on HTGAWM was unexpected, but it likely won't change anything. And when the show returns on Jan. 19, there is going to be the murder of Wes to figure out, along with the aftermath of his death in general, so there will be no time for speculating about Annalise's motives. In fact, it may even end up being one of those things that is never really addressed again. But that doesn't mean fans can't feel a little justified in their predictions that it was going to happen sooner or later.