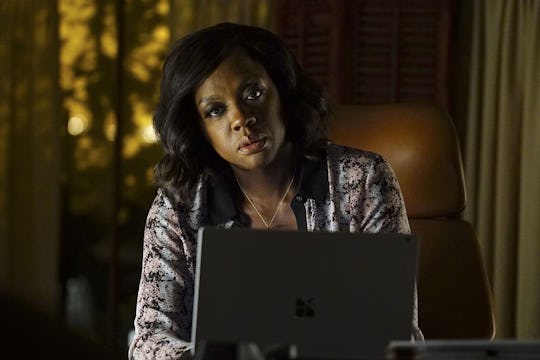 Richard Cartwright/ABC
When Will 'How To Get Away With Murder' Return? The Winter Break Will Last For A While
There's this new thing that network shows are doing these days. Instead of going on a hiatus for a couple of weeks at a time, some shows have opted to take prolonged breaks in the winter and spring months, which is understandable, but also kind of not, if you're as invested in some of these TV shows as I am. So when will How To Get Away With Murder Season 3 return? The winter break won't be a short one, but will likely fly by thanks to the holiday season and the availability of tons of food to stuff your face with. But it still pains me to say that HTGAWM is going to be gone for two whole months and will eventually return on Jan. 19.
The good news is that before HTGAWM takes a break for several weeks too many, fans will finally get some answers as to who is under the sheet. And not only that, but if Season 3 is following the same format as the two seasons before it, there will likely be a winter finale cliffhanger to make the break that much more bittersweet. Right now, all fans know is that Wes appears to be giving up Annalise to the police and that either Frank or Nate are dead after the fire at her house. But the way things are looking, anything could happen when it's all said and done.
Annalise might lose Nate and totally lose her mind in the process, or she'll lose Frank and hate herself for being part of the reason he killed himself, provided that the fire is his fault and was intentional. The promo for Episode 9 is super dramatic, showing almost every character in tears, lots of evidence burning, and once again the stretcher with the covered body on top. So yeah, it's safe to say that the winter finale of HTGAWM is going to make the following two months excruciating for fans.
When the show returns on Jan. 19, there will be six remaining episodes of the season left, which will no doubt follow the next big mystery that unfolds as a result of Annalise and Wes's actions thus far. With the reveal of who is under the sheet on HTGAWM, the return after the winter finale will likely focus on the next big cliffhanger of a problem that the Keating Five manage to get themselves into, since these characters seem to be a real magnet for trouble.
HTGAWM returns on Jan. 19, which is a good two months away, but in this show's case, perhaps its absence will just make the hearts of fans grow fonder.