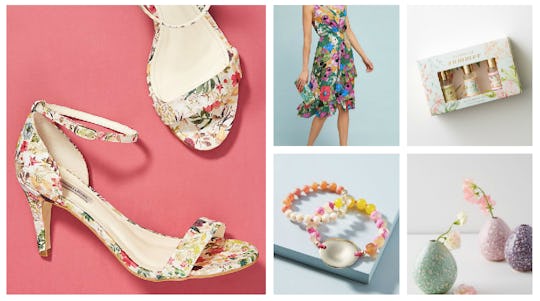 Anthropologie
Guys, Literally Everything At Anthropologie Is On Sale Right Now. *Everything*
Calling all last-minute Mother's Day gift shoppers: All hope is not lost. Consider this your lucky day, because (beloved mom shopping destination) Anthropologie is having a Mother's Day sale that seriously honors of all the mamas out there in the best way possible: By taking 20 percent off each and every item. Each and every item! Clothing, stuff for the house, beauty products, jewelry... it's all 20 percent off through the weekend. Even the things that are already on sale!
As Anthropologie fans know, this is a major Mother's Day miracle because there are so many potentially appropriate gifts in that store: Home accents that make can make every room in the house look Pinterest-worthy. Feminine, fabulous dresses and tops and shoes and loungewear that are unique and pretty and fun (and they feel good to wear, too). Artisan-style jewelry that ranges from subtle to statement. And then there's all the beauty-related inventory, including serums and potions and cleansers and lotions from lines that use sustainable, cutting-edge ingredients. It's legitimately hard to think of a mom who wouldn't be happy with something from Anthropologie. (And if she's out there, I have a few questions for her.)
Not only are all of these items on sale, plenty of them were actually super inexpensive to begin with. So no matter what your budget, there's something on this list that's bound to fit the bill (but don't hesitate!).