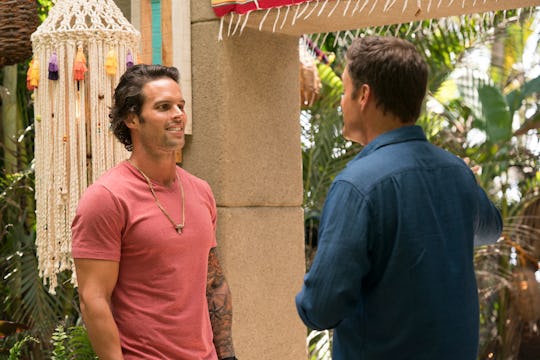 Paul Hebert/ABC
Astrid & Kevin Are Another 'Bachelor In Paradise' Couple In The Making
They haven't gone on any actual dates this season, but sometimes on Bachelor in Paradise, you don't need an official date card to link up with the object of your affection. Kevin proved as much when he and Astrid had a beer and sausage date that ended with the two of them each biting one end of the same sausage at the same time. It was… romantic. But it makes you wonder, are Astrid and Kevin still together after Bachelor in Paradise? Up until the date they made for themselves at the BiP resort, they hadn't had much screen time as a couple, but that could be a good thing. It means that there probably wasn't any drama between Kevin and Astrid and that whatever relationship they developed on the show was the real thing. As to whether the two are sharing sausages on the regular now that the show is over, that remains to be seen.
It has to be said that Astrid lives in Florida and Kevin is from Ontario, so the distance could be an issue for the pair. Kevin previously dated Ashley I. after they met and hit it off on The Bachelor Winter Games. When the show ended, they continued with the long distance thing for a while before it became too much for them. After their breakup, Kevin went on the Ben and Ashley I. Almost Famous Podcast to explain what went wrong. While the distance was an issue but it wasn't the biggest. He and Ashley I. did agree that there was a spark missing once they left The Games in Vermont. There's a chance that he and Astrid could have run into a similar problem after they finished filming BiP.
Since I'm sure Bachelor in Paradise contestants are under strict rules to keep their relationship statuses private until after the season airs, there are no telltale romantic photos on either Kevin or Astrid's respective Instagram profiles. There is, however, the little matter of the two of them now following each other on Instagram. At the beginning of the season, it didn't look like the BiP contestants were following each other on social media. But now that viewers have seen the beginning of what could be their love story, both Kevin and Astrid follow each other on Instagram.
They both also posted about drinking tequila less than a week apart at the end of June and beginning of July. I know that might be a bit of a stretch, but when it comes to Paradise, you have to really believe in the journey.
More recently, on August 9, both Kevin and Astrid posted about tequila yet again. Astrid posted a photo of herself with a glass in and and the caption, "I thought we had enough tequila in Mexico… but one more won't hurt right?" Then, Kevin posted an Instagram photo of himself on a boat and tagged Patron. Then again, maybe they're both just big tequila fans.
Now, if Kevin and Astrid aren't the real deal, they had better decide fast, since the season is halfway over. But really, even as more contestants come each week to shake things up, to me it looks like Astrid and Kevin are one of the more solid pairs right now. So, it's definitely possible that they could leave Paradise as a couple or even engaged. But geographically, someone is going to have to make a move and judging from social media, both contestants are still firmly planted in their respective countries.