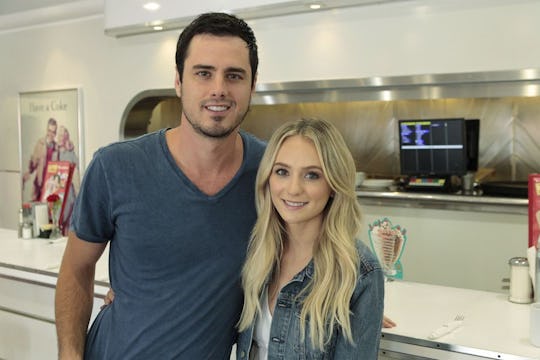 Rick Rowell/Freeform
Are Ben & Lauren Still Getting Married? The Former 'Bachelor' Couple Are Taking Their Time
After being on hiatus for a few weeks, Ben & Lauren: Happily Ever After? will return Tuesday night with new episodes to continue following the former Bachelor couple as they navigate the new adventure of living together and getting used to smelly socks and long morning routines. You know, all of the annoyances that Ben and Lauren somehow manage to make look adorable. But after coming back from the break, are Ben and Lauren still getting married?
Just because there hasn't been a grand televised special yet, showcasing the couple's nuptials in a very Bachelor-like way, it doesn't mean that the wedding or even the engagement is off. From the beginning. Ben and Lauren made it clear that they would be taking their time to get to the aisle. Or at least give themselves enough time to get used to living together and to get to know each other's family. So just the little things.
In a promo for Episode 5 of Ben & Lauren, you can see an emotional Ben telling Lauren that, at this point, he can't see their wedding happening anytime soon and Lauren, bless her heart, takes a few seconds to consider what this means before asking, "So you're saying the wedding is off?" Can you hear that? It's the sound of millions of hearts breaking all over the country.
But just because that's what one sneak peak shows, it doesn't mean that this is in any way the end of Ben and Lauren as a couple. Keep in mind that what you're watching was filmed months ago and take into consideration that since then, the couple has likely worked on whatever issues were plaguing them in order for them to proceed with wedding plans. To Ben's credit, things did start to move pretty quickly, so having cold feet is justified somewhat.
If you look at Lauren's Instagram right now, though, you'll see images of the perfect couple being every bit as happy as you remember, which might help you believe not only in their love again, but love in general. In fact, Lauren seemed to have made a point to show off her ring finger, still adorned with that big engagement rock, in one of their recent vacation photos.
The former Bachelor couple also seemed to take some time off from wedding planning to do some volunteer work in Honduras, which you can't fault them for. Ben recently posted a photo, captioning it that they'd just returned from their volunteer trip, urging his followers to support the cause he and Lauren are working with, the Humanity and Hope T-shirt campaign.
So while you're wondering if Ben and Lauren are still getting married, try to remember that these are actually real people who probably don't want to rush into anything as monumental as a marriage before giving their relationship a chance to fully settle. In an upcoming episode of Ben & Lauren: Happily Ever After?, they'll also be embarking on couples counseling. I don't know how seriously you can take that, with several cameras in their faces, but let's give them the benefit of the doubt and continue to 'ship Ben and Lauren as relationship goals.