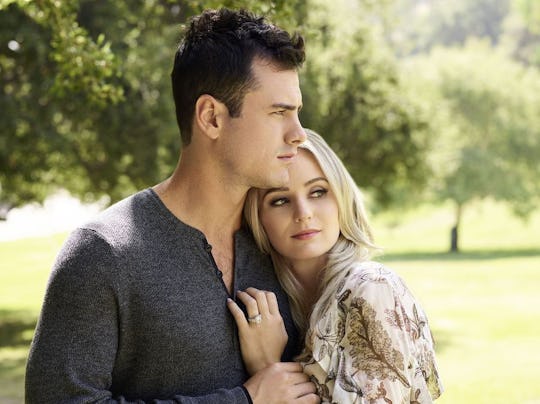 Freeform/Vu Ong
Where Will Ben & Lauren Get Married? The 'Bachelor' Couple Are Still Planning The Wedding
After meeting on TV, falling in love in the same show, and then getting engaged on The Bachelor, it would only make sense for Ben Higgins and Lauren Bushnell to get married on TV too. But where will Ben and Lauren get married? So far on their Freeform reality show, Ben & Lauren: Happily Ever After?, they've talked a lot about their wedding date and the state of their relationship. But during last Tuesday's episode, the topic of a televised wedding was broached by none other than Chris Harrison, the Bachelor host who helped bring them together by way of ridiculous dates and pep talks.
Ben and Lauren talked to Harrison about having their wedding televised since ABC apparently wants to know if the couple is interested in having their nuptials televised on TV, much like that of their Season 17 predecessors, Sean and Catherine. After much deliberation throughout the episode, Ben and Lauren decided that yes, they would be welcoming the country into another intimate step of their life together by getting married on national television. But where are Ben and Lauren getting married exactly? So far, the couple has been adamant about taking things slow and wanting to have the strongest relationship possible before they take the plunge, but there has to be some semblance of pressure to figure out where the big day will be now that ABC is getting involved.
After Season 17 of The Bachelor, Catherine and Sean got married in January of 2014, shortly after Season 18 began airing. If that's any indication, then we might be smart to expect a wedding special of Ben and Lauren to air sometime in January of 2017, a week or two into the new season of The Bachelor. And while a destination wedding seems like something that is totally up the alley of all things Bachelor, chances are, Ben and Lauren will be marrying somewhere closer to home. But if their wedding is sometime in January, they could decide to take the Sean and Catherine approach and marry somewhere in southern California, where most of The Bachelor and The Bachelorette seasons are filmed. But again, this is all just speculation, for now at least, though, it's only a matter of time before more information is revealed.
ABC might become privy to all of the wedding details and be granted permission to air every bit of it when the time comes, but let's not forget that this is still a wedding between two very real people who are going to want to plan and execute their own dream ceremony in the way they see fit. In the meantime, Ben and Lauren are adamant about keeping their relationship solid with couples therapy and working on strengthening themselves as a couple before revealing any other set wedding plans. And honestly, that's a great decision.