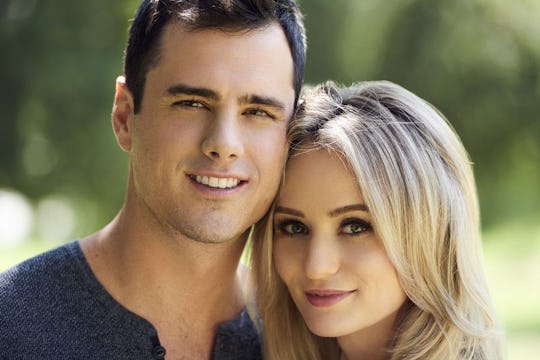 Freeform/Vu Ong
When Are Ben & Lauren Getting Married? The 'Bachelor' Couple Are Taking Their Time
When Ben Higgins and Lauren Bushnell found love on Season 20 of The Bachelor, they ended the season with the requisite marriage proposal, but all season long their connection seemed legit, so getting engaged was a natural next step for them. But now that they've been engaged for almost a year, when are Ben and Lauren getting married? The soon-to-be newlyweds have a new reality show on Freeform, Ben & Lauren: Happily Ever After?, but is that going to mean a televised wedding or even more time between the engagement and the actual ceremony?
It's different for every engaged couple. Some don't want to wait very long at all and go on to plan a wedding within the same year. Others want to be able to enjoy their engagement and the period before actually being married, and so they wait a bit longer. In Ben and Lauren's case, it's the latter and while there's nothing wrong with that, they do have a show documenting their life together now, so you can't help but wonder when the marriage part of their happily ever after is going to take place. Granted, there's nothing wrong with taking your time getting to the alter, but you have to wonder if more TV is really what the couple needs right now.
The first episode of Ben & Lauren: Happily Ever After? showed the couple together in their Denver home, living their life after The Bachelor, but never quite escaping all that comes with being a couple from one of the most popular network reality TV shows there is. They had JoJo Fletcher's After The Final Rose taping to appear on, where they'd faced the woman who'd been Lauren's competition during her time on The Bachelor, which didn't sit too well with the bride-to-be, and all the while they were filming for their new reality show. Obviously falling in love on TV worked for them, as they're still together, but since they're putting off wedding plans for now, is more reality TV really what they need?
After The Bachelor, Ben and Lauren went on to seek couples counseling in order to get any issues out in the open before they actually take the plunge and get married. According to a recent interview Ben and Lauren had with Us Weekly, the whole idea of entering into counseling together was so that they could work through any issues they currently have, as is normal in any relationship. Through counseling in their church, the couple plans to grow stronger and Lauren asserts that she plans to be married just once, so there's no harm in making sure that they go into their marriage in the right frame of mind.
But Ben told People that just because they've chosen to take things slowly leading up to their actually wedding and get preemptive counseling, it doesn't necessarily mean anything is wrong with their relationship. "It doesn't say anything about cold feet or second thoughts," he said. "We just want to do it on our own terms. And we want to be engaged. We don't want to look back when we're fifty and think we could have enjoyed this time more."
There is obviously going to be plenty of drama to fill in the not so sweet and light-hearted spots of the first season of Ben & Lauren: Happily Ever After? but that just makes the couple more real, and even if they haven't set a wedding date just yet, don't be so quick to write them off.