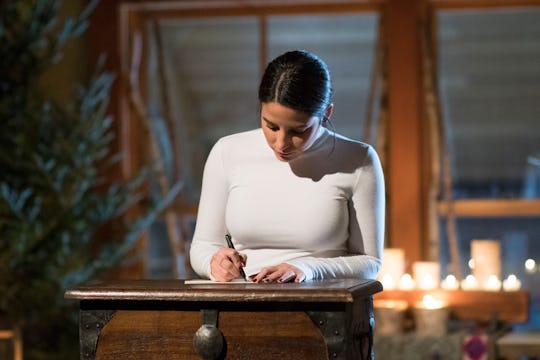 Lorenzo Bevilaqua/ABC
Are Bibiana & Jordan Built To Last After 'The Bachelor Winter Games'?
There are already several couples in the making on The Bachelor Winter Games and despite Bibiana Julian and Kevin Wendt initially seeming like a sure thing, he had stronger feelings for Ashley Iaconetti and acted on them. This left Bibiana to explore other options and when Jordan Mauger showed up, he was that other option. Since they seemed to like each other right away, are Bibiana and Jordan still together after The Bachelor Winter Games? The duo hit it off quickly and as Ashley I. herself said, they already seemed like a bona fide couple at the rose ceremony on Thursday's episode.
It might seem like Bibiana moved on pretty quickly from the guy she went on her first Bachelor Winter Games date with, but you have to remember that not only did they film the show over a short period of time, but all of the romance almost had to be fast-tracked. Luckily, this helped Bibiana move on when Kevin and Ashley I. became official, and when Jordan arrived on The Bachelor Winter Games, it was all the easier for Bibiana to find interest in him.
There aren't any solid social media clues to tell whether or not Bibiana and Jordan are still together, but of course that doesn't necessarily mean that they aren't.
For those who don't know, Bibiana was on the most recent season of The Bachelor (that's actually still airing) and got sent home pretty early on. Just because she lasted until Week 3, however, doesn't mean that she hadn't already developed some feelings for Arie Luyendyk Jr. at the time of her elimination. So coming hot off that show and into The Bachelor Winter Games had to give her mixed emotions of both hopefulness and worry at having her heart broken once again. Fortunately, that didn't exactly happen when things didn't work out with Kevin Wendt, since parting ways seemed to be a mutal decision. But when Jordan showed up, it was kind of perfect timing.
Jordan doesn't have the best history with The Bachelor franchise, though. As the star of The Bachelor New Zealand Season 2, he was tasked with the usual job of finding a future wife out of a sea of glimmering dresses and excited faces. But the pressure was a little too much for him and he will always be known as the guy who flipped a coin to choose between the final two contestants of his season. As he explained to Entertainment Tonight, however, he just didn't feel anything real with any of the women. "I thought it was unfair taking a genuine person into a fake relationship for cameras," he said. "That would've been traumatic for someone who's in it for real."
He also confirmed that he made a strong connection with someone while filming Winter Games, and since he seemed so excited by his chemistry with Bibiana, I wouldn't be surprised if it's her he was referring to. "I did get the experience I hoped for on the show and the highlight was being emotionally mature, vulnerable, and allowing someone to connect with me on that level," he said in the interview. "There were times I would go into interviews and be smiling ear-to-ear because I was just so happy."
In the world of The Bachelor Winter Games, things are still very new for Bibiana and Jordan, but as it stands, they seem totally smitten with each other. It was a no brainer for Jordan to giver her his rose during the rose ceremony. Of course, there's still time for someone to slip in and potentially get in the middle of their budding romance, but with just two episodes left, I'd say Bibiana and Jordan are endgame as far as the season is concerned. Beyond that, it's still too soon to tell for sure.
Check out Romper's new video series, Romper's Doula Diaries:
Watch full episodes of Romper's Doula Diaries on Facebook Watch.