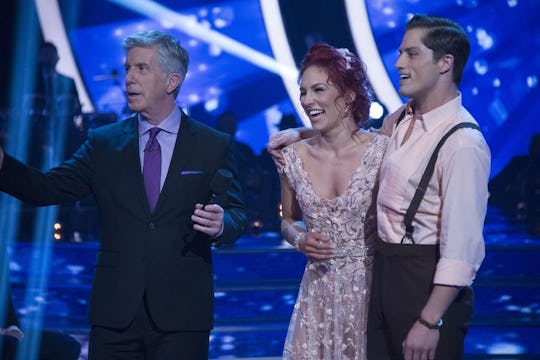 Eric McCandless/ABC
Fans Want 'DWTS' Duo Bonner & Sharna To Be Together
Whether you believe the rumors or not, the truth of the matter is that some couples on Dancing With the Stars meet and find an insane amount of chemistry with each other that evolves into something real off the the dance floor, for however long it might last. And Season 24 may prove to be no different when it comes to a certain dancing duo. So are Bonner Bolton and Sharna Burgess dating? The DWTS pair definitely have some explosive chemistry together, but according to the dancers themselves, it's all part of the show.
After their Week 2 dance, Bonner and Sharna spoke to E! News about the rumors already flying about their potential romance and they, unfortunately, squashed them right then and there. I mean, it could all be part of wanting to keep things on the down-low or maybe the pair will develop feelings later on, but right now they both seem to be in agreement that there is nothing romantic going on.
"It's all a part of playing the character, for sure," Bonner insisted and Sharna was close behind his denials of any romance between the DWTS partners. "We talked a lot about breaking down characters and bringing across a tormented romance that was a little bit one-sided," she said. "It's all about acting at the same time as dancing. If people feel like maybe we were having a romantic relationship, then we did our job in our dance, right?"
It does make sense that it's all for show, but their Viennese Waltz from Week 2 was extremely sensual and romantic, and it only continued to fuel the dating rumors for Bonner and Sharna. Even judge Julianne Hough commented that watching them dance was like "watching something unfold" before her eyes. And I'm pretty sure we were all thinking the same thing.
It also didn't help their cause as a non-romantic pair that shortly after their Week 1 country song performance, Bonner was caught putting his arm around Sharna and accidentally resting his hand, ahem, too far south of the border. Sharna was quick and careful to move it away and it definitely seems like an honest accident, but it was just another part that played into the dating rumors between them. Bonner told Entertainment Tonight as much, but Twitter was kind of on fire with more fuel added.
Right from the start, Bonner and Sharna have had some amazing chemistry on DWTS. They seem like one of the pairings who are already totally and naturally at ease with each other. Can they really blame America for wanting them to be together and have lots of dancing babies? Just saying!