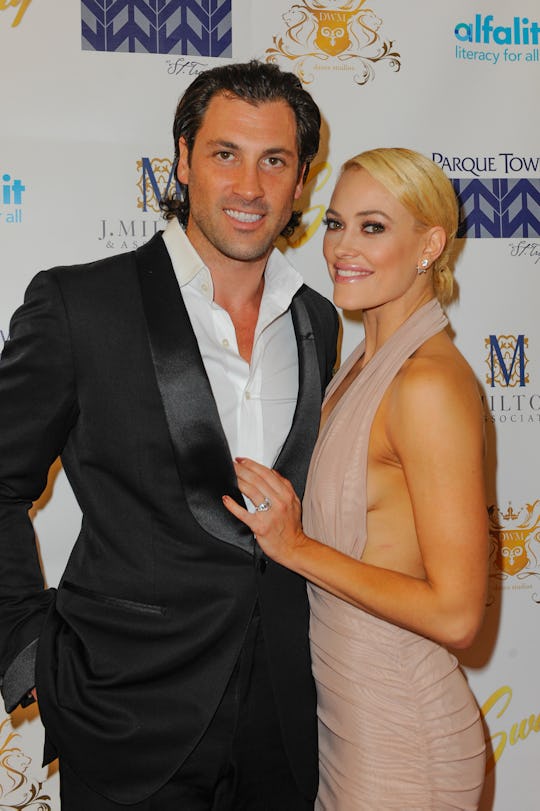 Sergi Alexander/Getty Images Entertainment/Getty Images
'DWTS' Pros Maks & Peta Are Gearing Up To Tie The Knot
They might not be the only good thing about Dancing With the Stars, but for veteran fans, watching Maks and Peta's love story play out on the dancing competition over the past few years has been pretty fun. But with the new parents set to appear in yet another season, fans are probably asking: are Dancing With The Stars pros Maks and Peta married yet?
The couple got engaged live on-stage on the DWTS tour in 2015 (was there really any other way to do it?), but somewhere between then and the upcoming Season 24, the couple found out they were expecting a baby and in January 2017 Peta gave birth to their son Shai. So understandably, there wasn't time in-between all of that for the wedding, but even when the couple got engaged, they had planned for a Summer 2017 wedding and apparently they're sticking to it.
In September 2016, the couple spoke to Extra about their wedding plans, despite being pregnant in the middle of it all, and made it clear that nothing had really changed for them. Peta said that "even though I got pregnant in-between," they would still keep their original wedding date of July 8, 2017 and, according to Maks, their son Shai will potentially serve as a "little tiny ring bearer" at their summer wedding.
But even though they had a surprise pregnancy along the way, the wedding plans never really stopped for the DWTS couple and according to Us Weekly, they'll be married at Oheka Castle in Long Island. Maks told the magazine that the location was his idea as he'd been in love with the castle ever since he came to America as a teenager and had planned (even then) to someday be married there. "We went there. It's perfect. We're going to have it for two days," Maks said. "They're closing the whole hotel. It's going to be unbelievable."
Maks and Peta welcomed their son in January 2017 and even though Maks originally said that he wouldn't be returning to DWTS so soon after Peta gave birth, with her decision to return came his, so it looks like the pair will finally get to compete against each other for the first time in a while.
Although Maks and Peta aren't married yet coming into Season 24 of DWTS, the pro dancers are well into planning their big day as they gear up for some friendly familial competition on the show. Since Peta was out during Season 23 due to her pregnancy, they haven't been on together since Season 18, making this season extra special for them both.