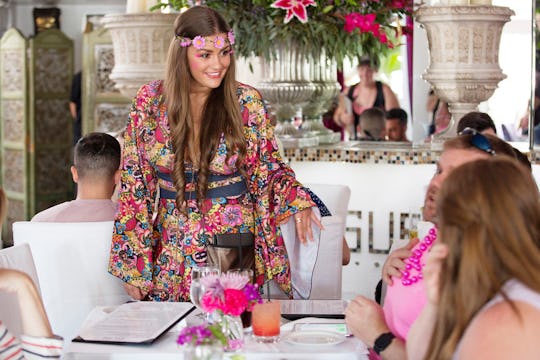 Isabella Vosmikova/USA Network
Brittany & Jax Have A Long History Together On 'Vanderpump Rules'
On reality TV, there are some things you have to take with a grain of salt, but when it comes to the on again/off again relationship of Brittany Cartwright and Jax Taylor on Vanderpump Rules, that's not the case. Through the many ups and downs of their relationship throughout the course of the series, their issues have seemed pretty real. It makes you wonder, then are Brittany and Jax still dating after Vanderpump Rules? The couple has a long history together and in the Season 6 finale, it seemed like they broke up for good. If their history tells us anything, though, it's that they'll always somehow find their way back to each other despite any trials and tribulations they might face.
That being said, after filming ended, Brittany and Jax got back together and are still going strong. "We broke up after [the finale] for about three months," Brittany revealed to E!'s Daily Pop in April. "We did the back and forth thing for a little bit too, but I was really in my zone, I was trying to get over him… But he crept his way back into my heart again." The Vanderpump Rules star said that after Jax was relentless in contacting her and trying to work things out, she finally gave in and, despite what seemed like their final breakup in the Season 6 finale, they're dating once again.
For those who are new to the show, or at least the relationship woes of Brittany and Jax, they have a complicated past. After dealing with heartbreak from Jax and cheating scandals, Brittany still allowed him back into her life during Season 6 of Vanderpump Rules. At the beginning of May, Brittany took to Twitter to talk a little bit about their revamped relationship and during the Season 6 reunion, Jax said that after mourning the loss of his father with Brittany by his side, he can't imagine his life without her.
Regardless of what went down between Brittany and Jax both on and off camera, to his credit, he does seem like he wants to make things work this time around. When one fan tweeted at him about watching their relationship troubles on Season 6, the Vanderpump Rules star responded with a few kind words of his own. "I was a mess but each day has gotten better, I'll never be perfect I know this, but I do know that I have the best partner a guy can ask for, and all I care about is being the best I can for her here on out," he tweeted back. "Thanks again means a lot."
It definitely doesn't seem like it's going to be a short-lived reunion, either. The couple recently traveled to Jax's home state of Michigan to attend his sister's wedding and judging by all of the Instagram posts, it Jax and Brittany have been able to reconnect in a big way and hopefully move forward from here.
When Jax broke up with Brittany this season, it was heartbreaking. "It has nothing to do with you, and I need to make some changes," Jax said in the episode. "You deserve to be happy, you deserve to get married, you deserve to have kids, you deserve to have someone treat you like the princess that you are, and I just am not that person."
Since then, Jax has apparently done some major growing up, because during the Season 6 reunion, he even hinted at wanting to start a family with Brittany. Clearly he's come a long way since then. Let's just hope that things continue on this path.