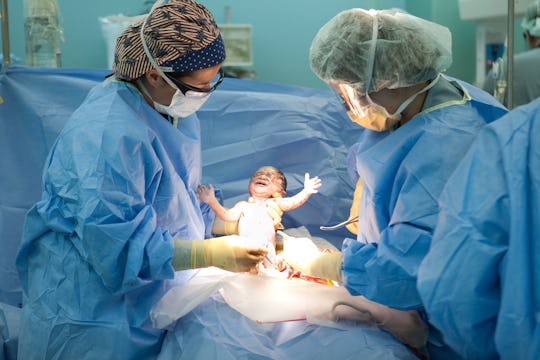 Brendan Hoffman/Getty Images News/Getty Images
Having Had A C-Section Could Cost You
On Thursday, Republicans succeeded in squeaking their health care plan, the American Health Care Act (AHCA), through the House of Representatives in a narrow 217-213 vote. Opponents of this conservative response to the bill vociferously ridiculed what they consider to be its callousness, as it could make health care unaffordable for those with pre-existing conditions. And one of the many striking aspects of the bill is that it essentially makes being a woman an pre-existing condition. That's because it would allow states to grant insurers the freedom to jack up premiums for women who are pregnant, have experienced postpartum depression, sought treatment for sexual assault, et cetera. Even C-sections would be considered a pre-existing condition if the AHCA were to become law.
The AHCA wills the United States to travel back in time to before President Barack Obama's Affordable Care Act (ACA) took full effect in 2014, according to The Guardian. Pre-ACA, insurers were free to jack up premiums for patients whose medical histories labeled them "risky" — or even deny them coverage outright. The ACA, the current law of the land, prohibited this practice. And so did the first version of the AHCA, but Republicans were forced to pull it from the House floor in March because ultraconservative members of Congress considered it too generous to support.
But the newer iteration, the one that passed the House, came revamped with language permitting states to opt out of that popular provision. And now anyone who has ever had a C-section is in trouble.
According to Quartz, insurers routinely provided coverage only at inflated premiums to people with experiences that disproportionately affect women, like sexual assault, domestic violence, and, yes, C-sections. Even though 32 percent of all babies are born via C-Section, women who have had the procedure are considered risky to insure because it can lead to health complications like placenta accreta. Mothers who have had one C-section are also more likely to have had another C-section and the hemorrhaging and other complications that can accompany that.
And that's a huge problem for women, as s Kristyn Brandi, OB/GYN at Boston Medical Center, recently told Parents.com:
Things that are incredibly common for women, including C-sections, pregnancy, and postpartum care, will all be considered preexisting conditions. A lot of women would end up paying out of pocket for health care, which would definitely be a big problem for most women across the country. Women are particularly at risk because they use more healthcare than other people do. They don't think of pregnancy as a preexisting condition, so people don't realize how much they will be impacted.
Supporters of the bill insist that the creation of high-risk pools will help patients who would otherwise struggle with to obtain health care to afford it. But Parents.com points out that the bill simply allows for the creation of these safety nets; it does not mandate it. Regardless, high-risk pools wouldn't offer the protections for the population of people with pre-existing conditions that the ACA currently does, CNN reported.
In addition to having the potential to make health insurance much less affordable for people who have had C-sections, it also compounds the existing stigma they face. The whole situation is bad news, which is why it's imperative to call your senators to urge them to vote no when their chance to vote on the bill comes around.