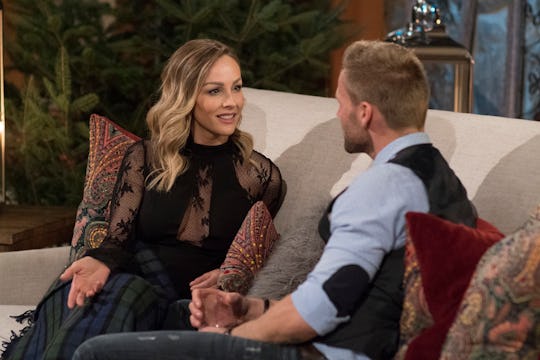 Lorenzo Bevilaqua/ABC
Clare Is At The Center Of A Love Triangle On 'The Bachelor Winter Games'
The Bachelor Winter Games are already shaping up to be one of the best ideas the franchise has ever had. The show has brought together past contestants from all over the world and while some are already coupling off, a few others, Clare Crowley, Christian Rauch, and Benoit Beauséjour-Savard, seem to be in a love triangle. So you have to ask, are Clare and Christian dating after The Bachelor Winter Games? They're two parts to the love triangle that looks like it will span the length of the season even though Clare's initial connection was with Benoit.
The first night of the games was no doubt difficult for many of the contestants. While some were quickly pairing off and even making out (I'm looking at you, Josiah Graham and New Zealand Bachelor contestant Ally Thompson), other contestants were trying to figure out where they belonged in all of this. And despite Clare and Benoit having a fun time making food together, making out, and getting to know each other in the best rom-com style ever, she eventually caught the eye of another man and vice-versa.
After her flirtatious evening with French-Canadian Benoit, Clare sat down to talk with the German Bachelorette contestant Christian. At first, I was sure she would shoot him down, given her obvious connection with Benoit, but Clare surprised us all by admitting her attraction to Christian as well. Could that be because he bares a striking resemblance to Juan Pablo Galavis, the Bachelor who sent Clare home during Season 18 of The Bachelor?
Neither Clare nor Christian have confirmed whether or not this potential romance is lasting away from the show, but then again, since the show only just premiered and hasn't finished airing, they could being keeping things on the DL for now. As far as social media goes, both of their Instagram accounts are suspiciously devoid of much content that would place them together after filming. But to be fair, Christian's Instagram was only recently updated after remaining stagnant since August. Clare did, however, speak to Entertainment Tonight following the premiere of The Bachelor Winter Games and, at the very least, admitted to the love triangle we can all see is coming this season.
"Being in a love triangle was something that I thought would never happen on any of the shows, so it was definitely something new for me, and I didn't expect really any guy to be interested in me," the former Bachelor and Bachelor in Paradise contestant told ET, adding:
I felt like I was going to be the old lady in the group… It was a pleasant surprise… I'm a very private person, so I think in the public eye, it appears I've just been doing no dating [these last few years off-camera], but as a matter of fact, I've had some pretty serious relationships… but I'm not one to settle.
Being that she prefers her privacy when it comes to romance, it's quite possible that she and Christian are, in fact, dating after The Bachelor Winter Games, but have decided to keep it private for as long as possible. And it should be noted that Clare also referred to her experience on the new show as "way better than I thought it would be" and said that her experience was "above and beyond" what she expected. So maybe that's a clue?
I honestly don't know how this love triangle is going to turn out, but it definitely makes for some exciting television. I only hope that no one ends up getting seriously heartbroken in the process.