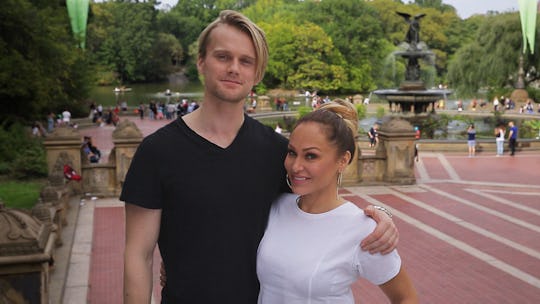 TLC
Darcey & Jesse On '90 Day Fiance: Before The 90 Days' Have A Lot To Work Out
When viewers first met Darcey and Jesse on 90 Day Fiancé: Before the 90 Days, Darcey had traveled to Amsterdam to meet and hopefully become engaged to Jesse. At the end of Season 1, she didn't have that engagement ring exactly, but she did get the promise of something more to come. Going into Season 2, it's Jesse's turn to make the trip to see his girlfriend, but are Darcey and Jesse still together now? The 90 Day Fiancé: Before the 90 Days couple might have parted ways.
The first season didn't end on a proposal to mark the beginning of the 90 days until they would have to be married in the United States and then the preview for Season 2 shows Darcey and Jesse butting heads more often than not. At one point, Darcey says that she's "tired of being bullied" by Jesse. And from that alone, it would seem that things between them weren't the best at the time of filming. Right now, it also looks like the couple split before they could even get to their 90 day window of time between engagement and marriage that the K-1 Visa requires.
For those who don't know, the K-1 Visa is one reserved specifically for the foreign fiancés of Americans. Once the fiancé comes over to the U.S. they have 90 days to get married. As seen on 90 Day Fiancé, sometimes it's just not worth it and in the end, some couples end up breaking up before they get to the altar. That seems to have been the case with Jesse and Darcey on 90 Day Fiancé: Before the 90 Days.
They may have started off as a couple ready to get to know each other and take the next big step, but Newsweek reported that in March, the reality stars wiped their respective Instagrams clean of each other. If that isn't a clear indicator of a break-up, then I really don't know what is. On the other hand, it could be argued that TLC would prefer the couples to leave some ambiguity regarding their relationships so that viewers will continue to tune in to the show each week. But Jesse's Instagram is full of selfies and solo photos, along with updates on his modeling career. Darcey's is private at this time, but before she went private, there weren't any other updates on her relationship with Jesse.
It's even possible that Darcey's relationship with Jesse ended before March. On what appears to be her Twitter account, she posted a photo of herself in November with the hashtag "#NewProfilePic." On the photo she wrote, "Positivity always wins." I've seen enough break-ups aired out on social media to know that when one part of the couple stars posting inspirational quotes instead of romantic ones, something is up.
Jesse's Instagram mostly focuses on his work these days. He's not only a fitness trainer, but also a model and aspiring actor and his Instagram is a testament to that. It does look like he's still in the U.S. but he's been traveling a bit for both business and pleasure. He recently posted a photo of himself in New York with the caption "To me, true success begins with feeling good about yourself and helping those who need it most. Also the freedom to do what you want, when you want it. It's not just money, it's a state of mind. Work hard, play hard!" So it looks like his main focus right now is his career.
Whether Darcey and Jesse managed to make a real go of it or if the relationship continued on a downward spiral remains to be seen. But regardless, fans will be able to see it all go down this season.