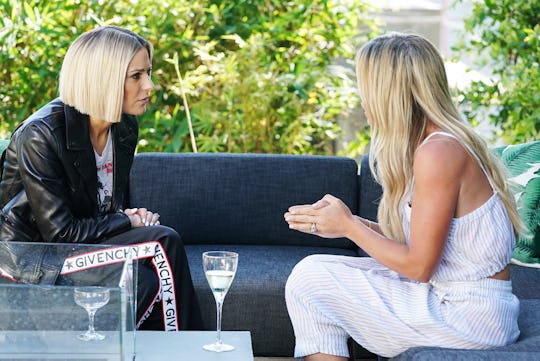 Nicole Weingart/Bravo
Dorit & Teddi's Friendship Has Suffered Dearly On 'RHOBH'
For Season 8 of The Real Housewives of Beverly Hills, Teddi Mellencamp slid into Eileen Davidson's spot in the cast and after just one season, she's managed to find herself in the middle of drama with a couple of different housewives, including Dorit Kemsley, who was one of the first to bond with her. This may lead many fans to wonder if Dorit and Teddi are still friends on RHOBH. Like any drama on the show, nothing was forgiven or forgotten in the course of just a couple of episodes and even by the end of the season, there was no love lost between them.
Believe it or not, it all started with a champagne glass. At Teddi's party in the beginning of the season, Dorit was served wine in a champagne glass and she immediately had a server switch out her glass for what she deemed a more proper one for her rosé. What progressed from there was an almost constant back and forth tension between the two women, even if at different points they both felt it was all drawn out and blown out of proportion. Then, Teddi told Lisa Rinna what Dorit had said about their co-star behind her back. Of course, word got back to Dorit, making her friendship with Teddi continue to suffer.
Although I would like to believe that these two grown adults can put aside their differences for the sake of the show, it looks like after filming ended for Season 8 of RHOBH, Teddi and Dorit still haven't officially made up. "We haven't spoken," Dorit revealed to Us Weekly. "I've definitely been a bit taken aback watching her [on the show], the way she's talked about me. It's so different to the relationship that we actually had. We're very different."
Despite their lack of reconciliation, though, never say never. In Teddi's Bravo blog post on May 1, she wrote that even though she and Dorit have failed to see eye to eye many times over, there's still hope that they can be friends again in the future. That is, if they can both find a way to communicate with each other on a real level, rather than a superficial or fake one. She also said in the blog that she appreciated Dorit's original apology regarding the whole glass incident, so while Teddi and Dorit aren't very close right now, it's possible that they'll be able to make up in some capacity in the future.
Ahead of the RHOBH Season 8 premiere, Entertainment Tonight spoke to the cast about the new addition of Teddi and at the time, Dorit seemed excited at the prospect of their new cast member and what she could bring to the show. "We've got children the same age, so we connected on that level," Dorit said at the time. "She's got great banter, she's funny, she's sweet, she's down to earth. Her husband's really lovely." Even after seeing the feud develop between the two women throughout the course of Season 8, it almost makes you wish that they could somehow find common ground again and leave the fighting to some of the other ladies.
Judging by their past interactions, it's probably going to be a long road back to being friendly toward each other. But if Teddi plans on being part of RHOBH in the future, she and Dorit are probably going to have to find a way to make things work between them moving forward. Only time will tell if that ends up happening.
Check out Romper's new video series, Romper's Doula Diaries:
Watch full episodes of Romper's Doula Diaries on Facebook Watch.