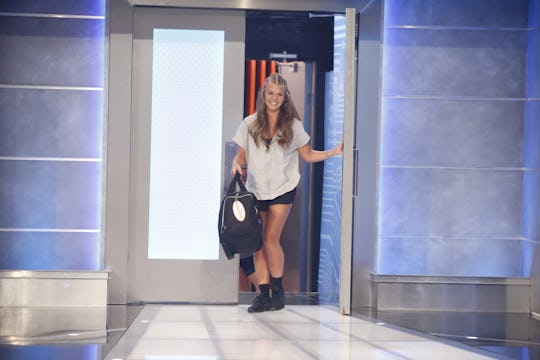 Sonja Flemming/CBS
It's Unclear If Haleigh & Faysal Are Together After 'Big Brother'
Much like Zingbot and the Diary Room, showmances are a big part of Big Brother culture. If there isn't a showmance during any given season, it's a rare occurrence and this season, there were a few of them. Tyler and Angela seem secure in their relationship and Bayleigh and Swaggy C have their own couple name, "Swayleigh," but are Faysal and Haleigh still together? The Big Brother couple's future seems uncertain.
During their time in the Big Brother house, they were hot and cold at different points. If Haleigh wasn't rolling away from Faysal on the hammock, he was accusing her of knowing "who flipped" after multiple eviction ceremonies. But there were moments where their showmance seemed legit, and it makes you wonder if they have plans to make their relationship work outside of the Big Brother house.
After Haleigh was evicted, she told TV Guide that it's hard to determine where she stands with Faysal romantically and whether or not his actions before his own eviction impacted her feelings for him. "It is hard to evaluate someone fairly in this house because you are under a pressure cooker 24/7 and your emotions are heightened and sometimes you act out of character," she said. "As far as Fessy, I tried to put into perspective about what he was going through and everyone reacts to stress differently." Unfortunately, that doesn't tell you much about where she plans to take their showmance once the cameras stop rolling.
Faysal, on the other hand, seems all in. In his own TV Guide exit interview, he said that he'd always planned to take their relationship outside of the Big Brother house. "I wanted [the relationship] to continue and I told [Haleigh] that every day when we were in the house," he revealed. "I know my feelings will be the exact same outside of the house. I just hope being in the real world will not change anything." I don't hear wedding bells, per se, but he's obviously ready to make it work if she is.
When Haleigh and Faysal were reunited in the jury house, it seemed like nothing had changed between them. Although Faysal wasn't happy that she'd been evicted, he was happy to see her. "Me and Haleigh had a good relationship, we spent a lot of time together, so I'm hoping to continue that, keep the ball rolling," he said during a Big Brother jury segment. All together now — awww.
Sometimes, the Big Brother "bubble" gets in the way of how realistic relationships would be outside of the house. During Season 18, Paulie and Zakiyah were in a fairly strong showmance until he made it clear that she was expendable as a houseguest. But on Season 19, Cody and Jessica made it work throughout the season and beyond and recently announced that they're expecting their first child together. So Big Brother romance can work. It's just a matter of whether or not both houseguests are willing to try.
For the most part, Haleigh has been pretty quiet about where she sees their showmance headed once the season is officially over, but from where Faysal is standing, the relationship seems like it could be the real deal outside of the show.
Haleigh lives in Texas right now and Faysal is from Florida, but he seems determined to stay with Haleigh after Big Brother. It's unclear where Haleigh stands or if she's just been more reserved because she was on national television, but if the feelings are reciprocated, they could go down in history as one of the more memorable Big Brother couples.