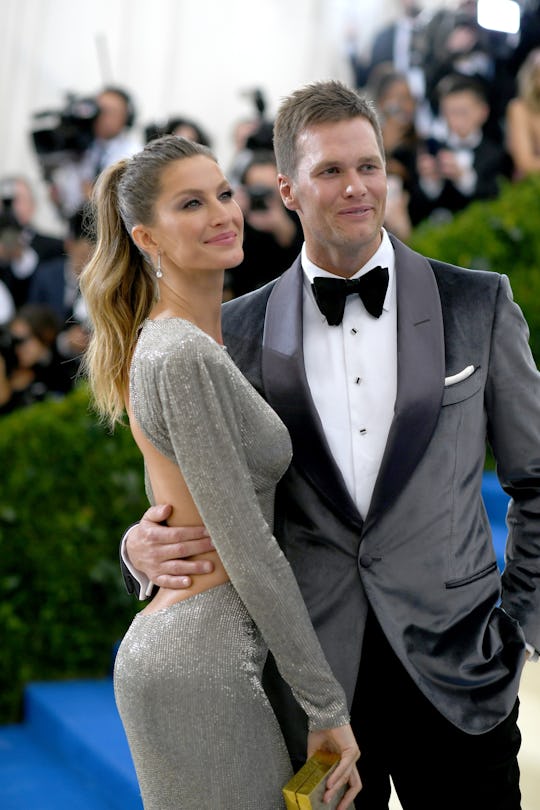 Dimitrios Kambouris/Getty Images Entertainment/Getty Images
Tom & Gisele's Kids Are Some Of The Patriots' Biggest Fans At The Super Bowl
The New England Patriots and the Philadelphia Eagles are playing in Super Bowl 52 on Sunday, February 4. This will be second Super Bowl in a row for the Patriots, who won the match last year, thanks to, in large part, the team's quarterback Tom Brady. His children made headlines for attending the game last year, so fans are understandably wondering: Will Gisele Bundchen and Tom Brady's children be at the Super Bowl this year?
Bündchen expressed her support for Brady and the Patriots on social media a lot as the game approached this year. She shared a clip from "Tom vs Time," a new Facebook documentary about her husband's football journey. "Yeah, we are heading back to the super bowl baby!!!" she wrote, implying that she would be at Sunday's game. And when the Patriots found out they were going to the Super Bowl in mid-January, Bündchen Instagrammed an adorable shot of her and Brady, featuring her wearing a "Team Brady" beanie. "What a game!!! Congratulations my love!" she captioned the shot. "So happy for you and your teammates! #gopats." It's safe to say that Bündchen will be in attendance this year, especially because they were already supporting their dad the day before the big game.
Plus, on Sunday, Bündchen posted this photo of her fan section (daughter in tow) rooting on the Patriot's star player.
When the Patriots won Super Bowl 51 in 2017, Brady's whole family stormed the field to congratulate him. Their children Vivian and Benjamin, as well as Brady's other son (who he had with his ex-partner Bridget Moynahan), John, proudly greeted their father. Bündchen congratulated her husband, who was in tears, on the field with a kiss, and Brady's mother, Galynn looked absolutely euphoric.
Before the 2017 game, Bündchen made her support for her husband very clear. She shared photos of herself, her daughter, and some other friends wearing jerseys that read "Brady's Ladies" (and "Brady's Little Ladies" for the kids).
Brady and Bündchen's 5-year-old daughter Vivian was actually in the news in the week leading up to this year's Super Bowl. Alex Reimer, who hosts a show on Boston radio station WEEI, recently made a rude comment about Vivian on the radio show. He called her an "annoying little pissant." A pissant is defined as a "person or thing of no value or consequence" or "a despicable person or thing," according to Dictionary.com. Reiner made the comment in response to a scene featuring Vivian in "Tom vs Time."
A few days later, Brady called in for a phone interview with another WEEI show to discuss the Super Bowl — but he wound up commenting on Reiner's remark. On the radio show, Brady said:
Well, I think that — I've tried to come on this show for many years and have showed you guys a lot of respect. I've always tried to come on and do a good job for you guys, so it's very disappointing when you hear that, certainly. But my daughter or any child, they certainly don't deserve that.
Reiner has since been suspended from the radio station.
In addition to Brady's children, it would be great to see his mother Galynn at the game again. Last year, she was not able to attend any games during the regular season, as she was going through chemotherapy treatments for breast cancer, according to Today. However, she pushed through and was able to attend the Super Bowl — as her son predicted she would several months beforehand. "He said, 'You'll be ready for the Super Bowl.' He told us that in the middle of the season," the quarterback's father, Tom Sr. said, according to CBS News. Hopefully Galynn and Tom Sr. are both in the stands this year to cheer on their son, along with the whole family.
Check out Romper's new video series, Romper's Doula Diaries:
Watch full episodes of Romper's Doula Diaries on Facebook Watch.