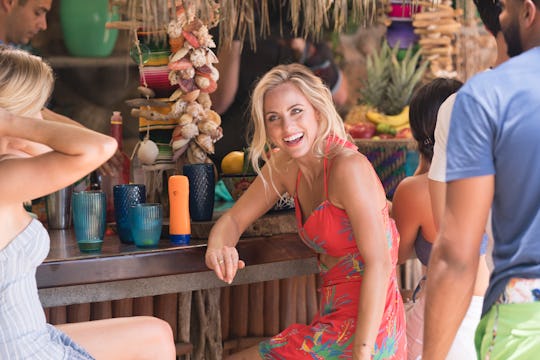 Paul Hebert/ABC
Grocery Store Joe & Kendall Could Be The 'BIP' Couple Who Makes It
Occasionally there are contestants in The Bachelor franchise who seem too pure for the shows. Kendall and Grocery Store Joe always appeared to be two of the most genuine stars from these shows, and it's almost too perfect they've found each other on Bachelor in Paradise. But are Kendall and Grocery Store Joe still together after Bachelor in Paradise? That's obviously the most important question here and fans were already rooting for the pair at the start of the Season 5 premiere.
When Chris Harrison put Joe in the hot seat on The Bachelorette's "Men Tell All" special, he didn't have much to say about his time on BIP, but that's to be expected. Then, when Entertainment Tonight inquired about his relationship status post-BIP, he was equally as coy. "I think it went pretty well," he said in a video with ET's Lauren Zima. Cue the secretive Grocery Store Joe grin. "You gotta wait and see," he said when pressed about his relationship status. But he did say that he's "happy right now" in his romantic life.
Hey may be a man of few words, but at least he didn't outright say that he's not involved with anyone right now. And going by some social media clues, it's possible that Kendall and Joe are still together, or at least flirting with the idea, after BIP.
When Kendall appeared on Arie Luyendyk Jr.'s season of The Bachelor, she seemed like one of the more level-headed and logical contestants there. Likewise, Grocery Store Joe seemed like one of Becca Kufrin's more down-to-earth contestants on The Bachelorette this season — even though he left after only one night. Because of his sweet personality (and his completely charming smile) he became a fast fan favorite. It only made sense that these two would end up together in Paradise.
But once the BIP bubble bursts and contestants are back home in their respective states, things can change, as they have for other couples in the past. I wouldn't hold it against Joe or Kendall for ending their relationship after BIP, but judging by his Instagram, Joe, the Chicago grocer, has spent a lot of time in California lately. And who lives in California? The lovely Kendall, of course.
It's normal for Bachelor Nation contestants to show up to the same events together and mingle as a group. But recently, Kendall posted an Instagram story that featured Joe in the background and deleted it shortly after. One BIP fan on Reddit with amazing foresight took a screenshot from Kendall's video, which showed her eating a veggie burger. And from a video that Joe posted on his own Instagram, the Redditor took a screenshot of him also chowing down on a meatless burger. I know this isn't the kind of solid proof that Joe and Kendall shippers need to feed the fuel of their romance outside of the show, but it's something.
Until either BIP star confirms that they're still together after BIP, it's all merely speculation. Joe did say in the BIP Season 5 trailer that he was falling in love with Kendall, and something tells me he doesn't just throw those words around. And since they both seem like such genuine people in real life, it's hard not to constantly root for them this season.