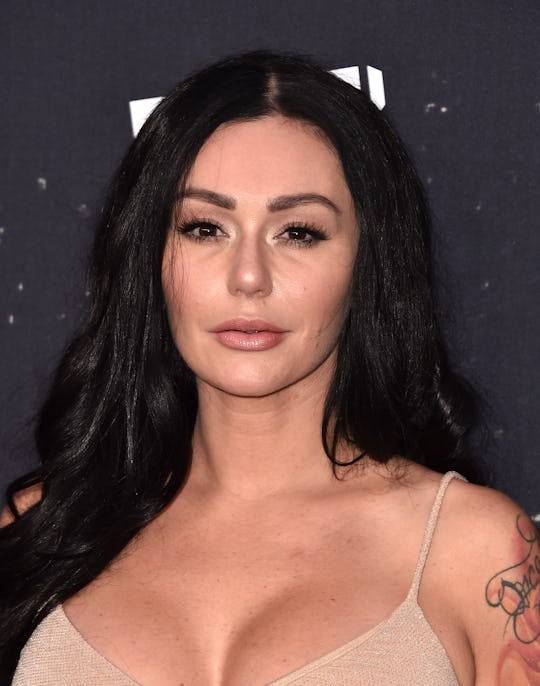 Alberto E. Rodriguez/Getty Images Entertainment/Getty Images
JWoww & Jen Harley Were Friends Before 'Jersey Shore: Family Vacation' Season 2
If you've followed the Jersey Shore cast before, during, and after Jersey Shore: Family Vacation Season 1, then you probably know almost everything that Season 2 will cover before casual watchers do. This includes all of the drama with Ronnie Ortiz-Magro and his girlfriend, Jen Harley, but the beauty of the Jersey Shore reboot is that there isn't much that's not going to be covered, including Jenni "JWoww" Farley's apparent friendship with Harley. But are JWoww and Jen Harley still friends? I'm not sure if they were ever anything close to BFFs, but as viewers have seen on Family Vacation so far this season, they developed something of a friendship away from the cameras and, apparently, behind Ronnie's back.
In fact, JWoww even voiced her concern over telling Ronnie that she and Harley were friendly and had been texting each other prior to the filming of Season 2. I'm not sure that I see what the big deal is, but on the off chance that Ronnie and Harley are having another big public fight, he'd probably want to know for sure that JWoww would have his back rather than Harley's. So in that regard, it makes sense that he'd prefer the two women be more like cordial acquaintances rather than besties.
On Family Vacation, JWoww told Ronnie that if he wanted her to stop talking to Harley, she would, and that his friendship was far more important to her. She even advised him to seek legal counsel in getting legal rights to his daughter whom he shares with Harley. Judging by that alone, I'd say that JWoww's relationship with Harley is more casual than anything, especially now that the episode has aired.
During Season 1, when JWoww first met Harley, she said that she was surprised she really liked her. And at the time, Ronnie and Harley's relationship hadn't yet made headlines for their social media wars. Since then, there have been multiple fights between Ronnie and Harley that one or both of them made public via social media. In May, their fight was about alleged cheating on Harley's part. And then in June, HollywoodLife reported that the Las Vegas Metropolitan Police Department confirmed that after a fight with Ronnie, Harley was charged with one count of misdemeanor domestic battery. Though the charges that she allegedly dragged Ronnie with her car were dropped in July due to insufficient evidence.
Now that things are a little more serious and Ronnie seem to often go back and forth about whether or not he wants to say with Harley, it looks like JWoww is in his corner more so than hers.
JWoww recently told Us Weekly, "I always say, 'If Ron likes her, we like her.' Whatever emotion he's on." That doesn't sound like someone who'd rather be good friends with Harley than her longtime Jersey Shore castmate. On the other hand, however, it does seem like JWoww is willing to be friends with Harley to some degree as long as Ronnie is in a good place with her at the same time. Given the fact that Ronnie and Harley have had one public fight after another over the past summer, he may have been on the outs with her more often than not. So if JWoww is sticking to her policy of backing Ronnie when he likes her and also when he doesn't, then she probably isn't all that close with Harley.
Right now, JWoww and Harley follow each other on Instagram, so like I said, they're likely still friendly and cordial to each other, especially since they both have Ronnie in their lives in some regard. But if a close friendship between the two women bothers Ronnie as much as it seemed to on Family Vacation, then I would venture to guess that JWoww hasn't gotten too close with Harley since then.