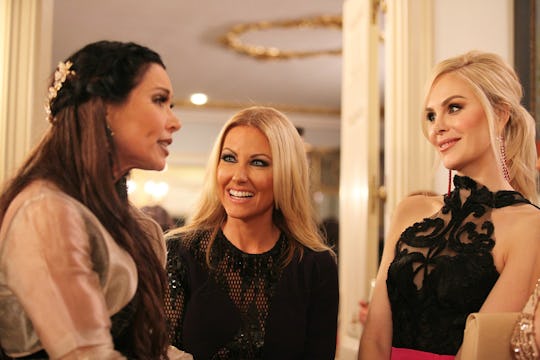 Peter Larsen/Bravo
The 'RHOD' Drama May Have Brought Kameron & LeeAnne Closer Together
The Real Housewives of Dallas might be one of the younger shows in the Bravo franchise, but Season 3 has been delivering some juicy drama all season long. It wouldn't be a Real Housewives show, after all, without a little backstabbing and table flipping. But after all of the fighting that's gone down this season, are Kameron and LeeAnne Locken friends after RHOD?
It all started when LeeAnne Locken made a remark about D'Andra Simmons allegedly having only $200 to her name. This sparked an all out verbal brawl between the rest of the women, which culminated with Kameron Westcott accusing Brandi Redmond of being a bad influence on D'Andra. Whether Brandi and D'Andra's friendship really is detrimental to the latter is up for debate, but it still makes you wonder about where Kameron and LeeAnne stand now, after Season 3 has finished filming.
To be fair, LeeAnne and Kameron haven't had as much beef with each other as some of the other women this season, but D'Andra and LeeAnne's rift did put Kameron in the middle of it all. In a recent episode of Watch What Happens Live, she made it clear that she isn't taking any clear side in the feud, but she did defend LeeAnne's relationship with her fiancé — which some of the women have been questioning.
"That is 100 percent not true, and for someone to even say that to a best friend is completely crossing Girl Code," Kameron said, of D'Andra's accusations that that LeeAnne's fiancé had been unfaithful and rumors of the couple living separately. "If [LeeAnne] would have brought that up herself, then that's something to talk about, but that's completely unacceptable."
Out of all of the women on RHOD this season, Kameron and LeeAnne might have the closest bond right now. Kameron recently said in an Aol.com interview that the two women get along so well because they're both "honest and upfront with one each other." Although Kameron sort of put herself in the middle of the drama this season, she seems to really respect LeeAnne overall. "In this group of women, there's so much going on that I just need a friend that's real, because I can't deal with anymore craziness," she said in the interview. "I need one person in my life that just tells me how it is, and I can have her as a source to tell me I need a reality check, and I don't think the other girls will do that."
She went as far as to say that because of the drama that seems to have somehow included almost the entire cast this season, she and LeeAnne grew closer than they were before it all began. In a way, I guess that's the light at the end of the tunnel of RHOD tea.
Luckily for Kameron, LeeAnne feels the same way about their suddenly much closer friendship. She told Us Weekly that Kameron is among her BFFs on RHOD. "I hinder no friendships on this show," she said. "People can say it all they want, because it makes me look like a bad person and that's great for them, but the reality is you've never heard the words come out of my mouth this season, 'Don't be friends with her.' I am closest with Kameron, Stephanie, [and] Cary."
The drama between D'Andra and LeeAnne probably isn't over and it likely isn't the last beef of the season, but at the very least, Kameron and LeeAnne were able to build a stronger friendship because of the fight between the rest of the women. And now, after RHOD, Kameron and LeeAnne seem closer than ever.