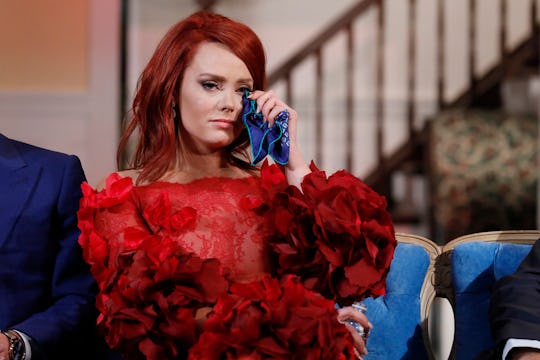 Heidi Gutman/Bravo
Are Ashley & Kathryn From 'Southern Charm' Friends IRL?
When Thomas Ravenel introduced his new girlfriend, Ashley Jacobs, to the rest of the Southern Charm cast, including his ex Kathryn Dennis, the drama that followed was expected. There's plenty going on with the other stars this season, but their drama is at the forefront and fans are living for it. But when it's all said and done, they all have to get along for the sake of Thomas and Ashley's kids, so are Kathryn and Ashley friends outside of Southern Charm? They do have some things they'll need to work out if Ashley and Thomas plan to stay together for the long haul, and if Ashley plans to remain such an important part of the kids' lives. But that right there is where the problem lies for the two women who, unfortunately, do not seem to be besties outside of the show.
From the time Ashley admitted to having met the kids on Mother's Day, there was some animosity between the two women, which is understandable. Things continued on a downward spiral throughout the season, including the infamous trip to Hilton Head. Thomas ended up leaving Ashley to her own devices with a bunch of women she didn't know who were already good friends and, as to be expected, things went from bad to worse.
During a dinner in Hilton Head on Southern Charm, Ashley all but accused Kathryn of being a bad mom. I don't know friends who can come back from something like that, much less two women who are already at odds with one another. "I really want to hope that you're going to be the best mother you can be," Ashley said at one point. "How many times did you go visit your son in hospital?" The hospital stay she was referring to was after after two-year-old Saint's minor injury earlier in the season, which Kathryn explained in a confessional interview would have violated her visitation agreement set in place with Thomas. That's awkward territory for Ashley to be charting into, huh?
Later Ashley told Thomas, "How bad of a mother must you be that the courts took two children and gave them to a convicted felon? I'm so sick of everyone feeling sorry for her." If there was any hope of the women making amends outside of the show, seeing that little clip from the episode is bound to set them back a ton.
On social media, there are no interactions between the two women and, after the experience they had together on season five of Southern Charm, it's unlikely that Kathryn and Ashley will be sharing a bottle of wine and laughs anytime soon. While it's true that Ashley is a big part of Thomas' life and Kathryn shares two children with him, co-parenting doesn't seem to be an issue so far, even with the side drama. Recently, Thomas posted a video of himself, Saint, and Kathryn having a dance party in his living room to the Britney Spears hit "... Baby One More Time." Ashley was nowhere to be found, but she could just be giving them space in order to set a good example for their kids while putting any issues on the back burner while the kids are involved.
Kahryn and Thomas even recently attended their daughter's dance recital and Kathryn captioned a photo from it with: "What matters most? My daughter's happiness. #thisiscoparenting #herfirstdancerecital #proudmom." Even so, there's definitely no love lost between Kathryn and Ashley. Maybe it will make for some much needed hashing out on the Southern Charm reunion at the end of this season, but I don't see the two women coming to an agreement over their issues anytime soon.