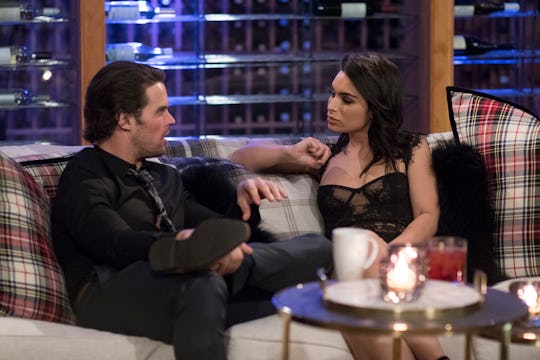 Lorenzo Bevilaqua/ABC
Kevin & Ashley I. Really Hit It Off On 'The Bachelor Winter Games'
If Bachelor in Paradise has taught us anything, it's that Ashley Iaconetti is resilient about love interests. The same goes for The Bachelor Winter Games when it comes to Kevin Wendt, even if Bibiana Julian from Arie Luyendyk Jr.'s season of The Bachelor also had a connection with him. But since it looks like Ashley I. may be getting all of his roses from here on out, does this mean Kevin and Ashley I. are dating after The Bachelor Winter Games? Even though Kevin chose Bibiana to go on a date with him during the first episode of the season, it did seem like he'd been starting to develop a connection with Ashley I. as well, so it wasn't very surprising that they seemed to hit it off during their conversation on The Bachelor Winter Games Thursday night. Kevin basically that he'd made the decision to pursue her over Bibiana. Or in his words, he closed the book on his "relationship" with Bibiana.
On social media, it looks like Ashley I. and Kevin both recently attended an event that was chock-full of former Bachelor and Bachelorette contestants, but since there were other Bachelor Nation stars there, including Bibiana, its hard to say if there's anything more to it. But before the season even began, Ashley I. and Kevin both spoke to E! News about what to expect from the new Bachelor spinoff and she at least confirmed that something happened between the two of them while filming. Does this mean they're dating outside of the show? It's definitely a possibility.
While Ashley I. revealed that both she and Kevin "made it pretty far," the former Bachelorette Canada contestant added that he did make a connection with someone while filming. Of course he didn't say who that was, but given what sparked between Ashley I. and Kevin in Episode 2, she could very well be the person he was referring to.
In the extended promo for The Bachelor Winter Games, the love triangle between Bibiana, Kevin, and Ashley I. was very clear. At one point, things looked good for Bibiana in the promo, but then Ashley I. looked like she had the upper hand with Kevin, so it's possible that the duration of the season will have fans wondering who Kevin ends up with on The Bachelor Winter Games. Between all of the tears from Bibiana in that promo, though, it would seem like Ashley I. finally gets that happy ending she's been looking for within The Bachelor franchise.
Judging by Ashley I.'s Instagram, what is clear is that on Jan. 18 (or sometime around then), she was traveling by plane with her dog. The filming for The Bachelor Winter Games took place in November and December 2017, so Ashley I. could have actually hopped on a plane in January to visit Kevin in Canada. Then again, the trip could have been anywhere really. But I choose to believe in love, especially since around the same time, Kevin posted a photo of himself with the caption "Kiss a little more, think a little less. Words we all need to live by."
Both Ashley I. and Kevin were also in Pebble Beach, California, seemingly for a golf tournament, but it could have also been a way for them to see each other in public before their story finished playing out on the show this season. The drama with Kevin dating Bibiana at first could have gone a lot worse than it did, but since she seems to be interested in The Bachelor New Zealand's Jordan Mauger now, it might be clear sailing for Ashley I. and Kevin both on and off the show.
Check out Romper's new video series, Romper's Doula Diaries:
Watch full episodes of Romper's Doula Diaries on Facebook Watch.