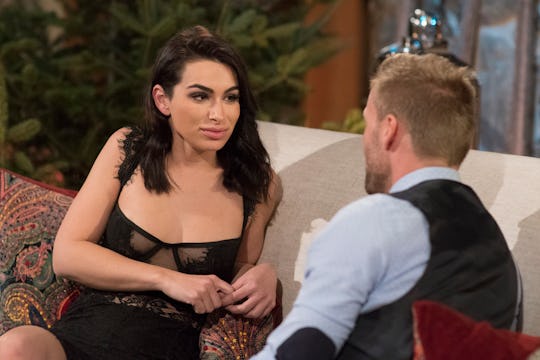 Lorenzo Bevilaqua/ABC
Ashley Iaconetti Has Gone On To Do Great Things In 'The Bachelor' Franchise
If you end up being one of the more memorable or noteable contestants on The Bachelor, you never really get away from the franchise completely. The whole experience an be legitimately life-changing for some and Ashley Iaconetti is no exception. So what is Ashley Iaconetti from The Bachelor doing now? This reality star alum has never really left Bachelor Nation completely, but it's only brought good things to her life.
Since leaving Chris Soules' season of The Bachelor in Week 6, Ashley I. has continued to be a big part of the show in very memorable ways. She went on to appear in Bachelor in Paradise Season 2 and Season 3 and found a new career as a freelance journalist, as opposed to the nanny job she was working when she initially went on The Bachelor Season 19. But being a college graduate from Syracuse University and being a memorable contestant on different Bachelor shows three times over are apparently a winning combination. Since her time on The Bachelor, Ashley I. has worked as a correspondent for Access Hollywood Live and Entertainment Tonight on all things Bachelor-related.
She's even been on scene to interview different Bachelor and Bachelorette contestants after events in the past, so like I said, Ashley I. has managed to stick around where it all began for her. And now, she's going to be one of many contestants on The Bachelor Winter Games, and I can think of no better place for The Bachelor star to be at this point.
Ashley I. also works for Clevver News online on all things pop culture-related that even go well beyond the Bachelor Nation spectrum. But just in case that isn't enough, Ashley I. also hosts a podcast with former Bachelorette contestant and Bachelor star Ben Higgins. On their show, The Bed and Ashley I. Almost Famous Podcast, they regularly talk about recent Bachelor Nation developments and even interview former contestants, including current Bachelor Arie Luyendyk Jr.
Because of her working relationship with Ben, who will also be competing on The Bachelor Winter Games for date cards and roses, it will be interesting to see their dynamic on the new spin-off show and how they might be able to play wingman and wingwoman for each other at times. And although this will be Ashley I.'s fourth time trying to find love in Bachelor Nation, she's apparently still open to the process once again, even though, as seen in the preview for The Bachelor Winter Games, she does shed some of her famous tears during the series. But I mean, it wouldn't be a true Ashley I. Bachelor season if she didn't.
Despite getting a little understandably emotional, though, Ashley I. assured People during a recent interview that the tears were for a number of reasons. The tears shown in the promo, Ashley I. said, were from "the end of the first 24 hours there, and it's exhausting." She added:
It's a whole bunch of scenarios unfolding in front of my face — I'm seeing my guy friends go on dates and I'm seeing another guy that I may have interest in having interest in another girl. So it's just like, a culmination of emotions!
Like live music on one-on-one dates and hot tub excursions in the middle of a cold forest, Ashley I. has become something of a Bachelor Nation staple and although it's unclear if she's able to find love this time around, The Bachelor Winter Games probably wouldn't be the same without her.
Check out Romper's new video series, Romper's Doula Diaries:
Watch full episodes of Romper's Doula Diaries on Facebook Watch.