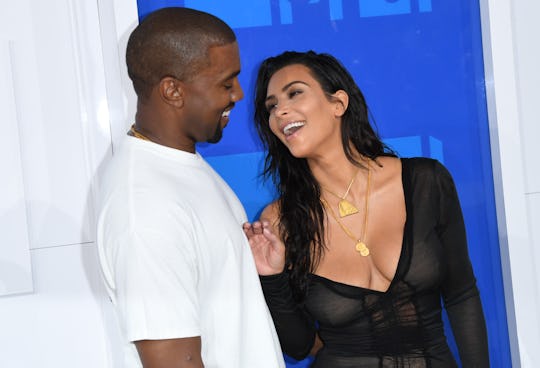 ANGELA WEISS/AFP/Getty Images
Kim Kardashian Put An End To Rumors That She & Kanye West Are Expecting Twins
Will the rumors surrounding Kardashian pregnancies ever end? No, of course not, since it's way too much fun to speculate. But one of the most recent rumors is that Kim Kardashian and Kanye West are expecting twins, of all things, which means that combined with Khloé and Kylie's alleged pregnancies there could be a lot of babies joining the Kardashian-Jenner family in a few months.
Although Kim has confirmed that she and Kanye are expecting their third child together, reportedly via surrogate, the rumors of Kylie and Khloé's pregnancies are still just that — rumors. (Romper has reached out to representatives for both Kylie and Khloé, but has not heard back at this time.) Which is exactly what inspired Kim to make a video with her grandmother Mary Jo "M.J." Campbell for her app. You know no one can drop truth bombs like a grandmother, especially M.J.
When it came to Kylie and Khloé's pregnancy rumors, she kept her mouth shut, which of course could mean anything. Perhaps she's working with her family to prep the public for all the good news or maybe she's just hoping the gossip dies down since it's not true.
But Campbell did speak up for Kim and Kanye as the two women ran through all of the bogus (maybe) headlines about the family. The first order of business? Whether or not Kim and Kanye were expecting twins or not.
According to Grandma M.J., as Refinery29 reported, this is not true. Like, so not true. The rumors started earlier this summer when Kardashian announced her pregnancy. BET reported that an anonymous source told Closer that Kim was already planning out the celeb lifestyle her twins would have, including reality TV shows.
This source added, "Kim finds it frustrating watching Beyoncé at the center of the publicity her twins have brought her. She wants her babies to be the biggest child stars in the A-list world."
Now, anyone who had read that anonymous quote probably should have taken it with a grain of salt because as any real fan of the Kardashian family or Keeping Up with the Kardashians knows, Kim is not some power hungry, jealous woman. Or at least the Kim we see on TV and social media.
So, no. Kim and Kanye did not, like, pay for their surrogate to have twins just to battle Bey and JAY-Z. And according to grandma, there's just one little baby on the way.
But, hey, if there are twins, that would be great, too. The more the merrier. If anything, Kim and her grandmother's video drive home the point that fans should always, always wait to hear news straight from her named representatives or official accounts.
Although, it's not hard to see why fans are so easily led astray by gossip — it would be really exciting if any Kardashian ended up having twins. And even grandma can get sucked in. In the video, M.J. joked that she reads People and has to text Kim every month to check and see if she's pregnant. Some other rumors that Kardashian and her grandmother tackled were the ones about Kim being a "monster mom" because there's reported sibling rivalry between her kids North and Saint.
Kim explained: "Obviously, North loves Saint. She just is still jealous. She needs to still get it together and warm up and be a little bit nicer. She's not hurting him or anything, she just doesn't want boys in her room." Which is pretty normal for almost all kids and has little to nothing do with anyone's parenting skills.
Hey, mine were great, but I would still throw a sneaker at my brother if he tried to come in my room for whatever reason.
So, alas, you should raise an eyebrow after reading basically anything about the Kardashian family. Grandma's orders.
Watch Romper's new video series, Romper's Doula Diaries:
Check out the entire Romper's Doula Diaries series and other videos on Facebook and the Bustle app across Apple TV, Roku, and Amazon Fire TV.