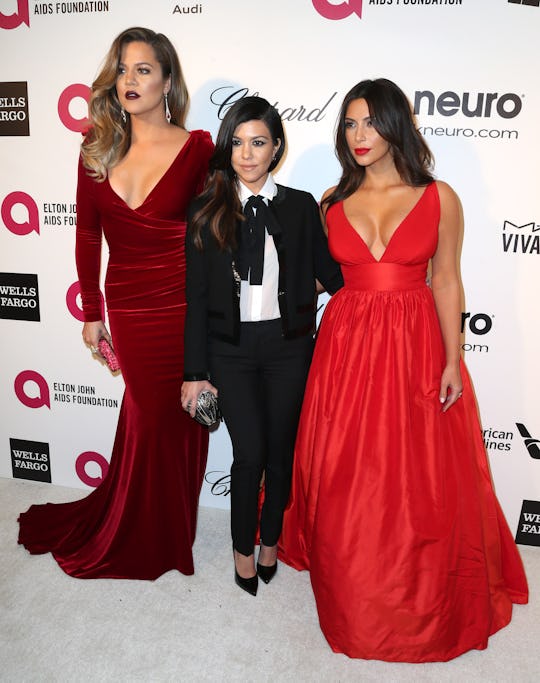 Frederick M. Brown/Getty Images Entertainment/Getty Images
Kim & Khloe Try To Pull Kourtney's Kardashian Privileges On 'KUWTK'
From wealth to influence to millions of social media followers, being a Kardashian certainly comes with plenty of privileges. But apparently, "Kardashian privileges" are an actual thing. In a clip from Keeping Up with the Kardashians, Kim and Khloe discuss taking away Kourtney's Kardashian privileges — and boy oh boy has this whole feud gotten out of hand.
In the clip, Kim and Khloé are wrapping holiday presents together and discussing recent tension between Kourtney and the rest of the family. "I just feel like she doesn't want to be a Kardashian anymore," Kim says in the video. "She doesn't want to be a Kardashian anymore?" Khloé responds with a smirk. "She basically means that with her actions," Kim explains.
Khloé evidently got what her sister meant, because she replies, "She can f*cking shove Kardashian up her f*cking vagina. No one cares." They continue by observing that Kourtney has been very selfish lately, which inspires Kim to pose a suggestion: "We should say, 'Oh, you don't want to be a Kardashian? Let's pull all your Kardashian privileges...'" to which Khloé chimes in, "that you just benefit off of."
So, what exactly are the Kardashian privileges that is Kim referring to? Making millions of dollars by posting sponsored content? Being able to charge $24.99 a year for access to blog posts on your website? Carrying the burden of your sisters' secret pregnancies for months on end? It's not totally clear, but I guess Kim and Khloé knew what they were talking about, because a moment later, they posted a video together on Snapchat in order to make Kourtney feel left out. Come on, gals, play nice!
This Kourtney vs. Kardashians feud came to a head this past winter, when Kim was trying to organize a photoshoot for the family's Christmas card — though the world didn't find out about it until the premiere episode of Keeping Up with the Kardashians' 15th season aired earlier this month. The planning was going smoothly until Kim changed the time of the photoshoot to accommodate a work meeting. After announcing the schedule change, Kourt said she no longer wanted to attend the shoot so she could spend more time with her kids, People reported. This sparked a pretty big fight, that resulted in Kim cursing Kourtney out. "No one wants you in the f*cking shoot. Get the f*ck out of here and go," Kim yelled at Kourtney, as seen in the episode's trailer on YouTube.
Later in the episode, Kourtney cried over Kim's comments. "I'm not here to be mistreated by my f*cking bitch family," she said per People. "You guys just have really different values than me. I choose to be a mother to my three kids."
After the episode aired (which was about eight months after it was filmed), the three sisters got into a bit of a Twitter war over everything that went down, Refinery29 reported. After Kourtney tweeted that her priority is being a mother, Kim shut her down by explaining that being a mother is her priority as well.
Khloé tried to explain that she "just wanted peace," but Kourt wasn't buying it.
After a few more angry tweets, the sisters made it clear that they are still each other's "ride or dies" and that they have "unconditional love" for each other.
But despite all the fighting, it would seem that Kourtney's Kardashian privileges are still sitting comfortably in her Dolce & Gabbana purse. After all, she's still appearing on Keeping Up with the Kardashians, and the sisters have been seen in photos hanging out together all over Instagram. Here's hoping the next Keeping Up with the Kardashians episode provides fans with a few more answers.