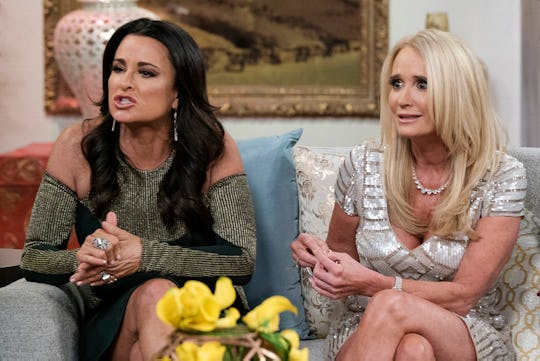 Nicole Weingart/Bravo
Things Are Still Tense Between Kim Richards & Eden Sassoon
As per usual, the most recent season of The Real Housewives of Beverly Hills was full of drama and feuds between both the housewives themselves and with the official "friends" of the women. And even though things went down between them, are Kim Richards and Eden Sassoon friends? The RHOBH stars definitely aren't BFFs and after all of the drama went down with Lisa Rinna right in the middle of it all, it seems like Eden and Kim will probably never have any desire to officially squash the beef between them.
At the reunion special for Season 7 of RHOBH, Eden tried to bury the hatchet and say that maybe someday she and Kim could be friends, but Kim didn't seem too ecstatic about the idea and in the next segment, had words with Lisa. The whole thing started when Lisa (like I said, she was at the center of all this drama) spread the rumor that Kim, who's been sober and working on her sobriety, was drinking and "close to death" and that her sister, fellow RHOBH star Kyle Richards, was her enabler. After Eden heard the rumors, which Kyle insisted were complete lies, she repeated them and it started a whole big thing that lasted the length of the season.
On April 4, Kim posted a simple tweet about Eden, no doubt referring to the latest episode of RHOBH at the time, but the fact that she posted it well after all of the drama indicates she still probably doesn't have much love for her.
As the season progressed, Eden tried to make amends with Kim, but with Lisa noticeably absent from any of the instances, it was made that much more difficult for Eden. Eventually, the salon and pilates studio owner lashed out at Lisa during the RHOBH season finale. "I'm sick and tired of you walking all over me and using me as your f*cking scapegoat," Eden shouted at Lisa R. during Lisa Vanderpump's party. "I'm not kidding. At all. And you know that. I don't get this mad. I've been nothing but there for you. Nothing."
And even though it's more clear than ever that the rumors and harsh words spoken about Kim's sobriety didn't originate from Eden herself, it still doesn't look like she and Kim will be close anytime soon. During the reunion, Kim gave Lisa R. back the stuffed toy bunny she'd originally gifted Kim's grandson and revealed that she never gave it to her grandson because she believed it didn't come from a place of good energy. When Lisa R. silently accepted it and a lone tear rolled down her cheek, a la Lauren Conrad from the days of The Hills, Kim said, "You don't have to cry over it," with the hint of an amused smirk in there.
Then, when Eden offered up one of her crystals to try and heal Kim, she replied with a quick, "Nope, I'm healed." So if Kim isn't all that into making amends with Lisa R., it's probably not going to happen with Eden either.