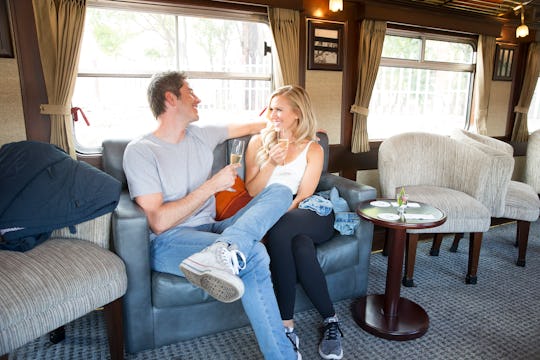 Paul Hebert/ABC
Lauren B. & Arie Are Probably Dating Now That 'The Bachelor' Is Over & Here's Why
It was the breakup heard around the world. Well, not maybe the world exactly, but millions of viewers tuned in on The Bachelor finale Monday night to watch Arie Luyendyk Jr. propose to and then break up with Becca Kufrin. It all stemmed from the very real feelings that he still harbored for the runner-up, Lauren Burnham, but it's still not clear if it was all worth it. So, are Lauren B. and Arie dating after The Bachelor? They did fall in love on the show, much like Arie and Becca, but in Becca's case, it would seem that Arie's feelings weren't strong enough to hold the relationship together. In fact, according to both Arie and Becca in the clips on After The Final Rose, he struggled with his decision and his feelings even after the season ended and after he and Becca were happily engaged.
At one point Becca talked about helping Arie through his doubts and feelings regarding breaking things off with Lauren B. and she even mentioned Arie talking to Lauren B. prior to their breakup, so clearly the feelings never went away. That being said, one would hope that Arie and Lauren B. are dating now, if only to ensure that everything that happened with Arie and Becca wasn't for nothing.
Although there has been no clear confirmation from either Arie or Lauren B., there's a good chance that they've been together since Arie ended his engagement with Becca. According to People, Arie had an actual sit-down conversation with Lauren B. shortly before meeting Becca at the "Happy Couples" retreat house to end the engagement, so she likely confirmed to him that she still had strong feelings as well, which may have prompted him to finally end things with Becca in order to be with Lauren B. instead.
"At one point I asked him if he wanted to make it work with Lauren and his response was, 'Yeah I want to try,'" Becca told People. "So in that instance I knew. I knew at that point, okay I'm sure he's going to try to make up for lost time and he'll probably go there soon to make it work and to reconcile with her." She also noted that even before Arie ended their short-lived engagement, she noticed that he'd been liking Lauren B.'s Instagram photos and that when she confronted him about it, he admitted to still having feelings he was working through regarding his runner-up.
That didn't necessarily mean a breakup was on the horizon, but all of the little warning signs definitely spelled trouble. While neither Arie or Lauren B. have said outright if they're together now that filming has ended and Arie has spoken to her about his feelings, I would say that Arie breaking things off with Becca was proof enough that there was a good chance at getting back together with Lauren B. In the end, he clearly felt it was right to follow his heart and he's not wrong by any means, but as most fans will say, doing so in a secluded house with cameras everywhere was probably not the best way to go about it.
Even so, Arie and Lauren B. did have a real connection, so much so that she'd been legitimately blindsided when he sent her home instead of proposing to her on The Bachelor season finale. Speaking of which, it also says a lot when the Bachelor tells you you're going home but also kisses you goodbye and says "I love you," which Arie definitely did with Lauren B.
All will no doubt be revealed on the second part of After The Final Rose on Tuesday night. But more than likely, Lauren B. still had strong enough feelings to resume her relationship with Arie. We'll know one way or another very soon.
Check out Romper's new video series, Romper's Doula Diaries:
Watch full episodes of Romper's Doula Diaries on Facebook Watch.