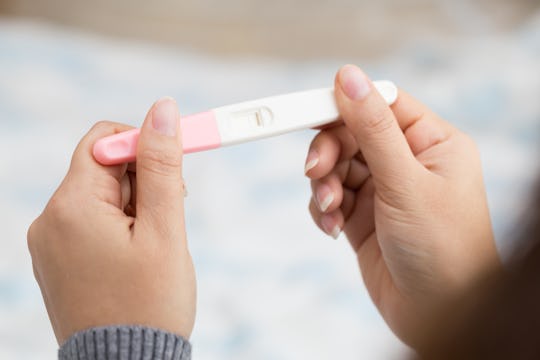 Narong Jongsirikul/Fotolia
Here's What You Need To Consider Before Trusting Your Pregnancy Test Results
Taking a pregnancy test is stressful business, whether you're trying to conceive or trying to prevent a pregnancy. While it seems like it should be a simple yes or no, there is a lot to contend with when taking those tests, and you want to know for sure with 100 percent certainty. But are pregnancy tests always right? Turns out, there are some factors to consider.
If you're unsure of the results of your pregnancy test, experts say you'll want to consider if you're taking the test too early, if you're taking fertility drugs that could affect the results, if your test is expired, and even if any medications you're on could make a difference. Some tests may even provide false information more than others, like the blue dye tests, according to Dr. Sherry Ross, OB-GYN and women's health expert at Providence Saint John's Health Center in Santa Monica, California. She tells Romper that these blue dye tests are harder to interpret because it works based on the evaporation of your pee, and that line can be colorless, which is often confused as a positive result. It looks like a shadow, according to Ross.
So perhaps not all pregnancy tests are created equal. But what about the pink dye tests or even digitals? Is there a chance they can be wrong? Whether you got a double line and didn't want them, or you got a single line and was hoping for a double, you obviously want to be 100 percent sure of your test results. What factors can constitute a false reading on even the best of pregnancy tests?