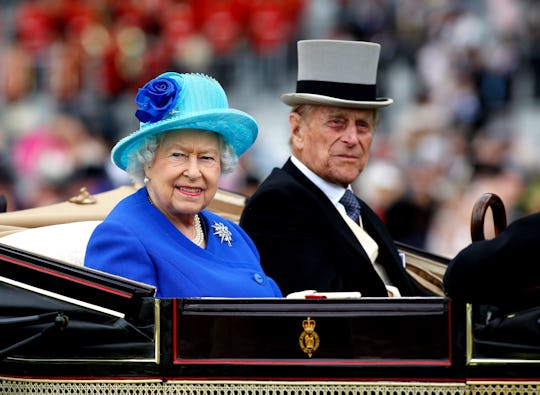 Julian Herbert/Getty Images Sport/Getty Images
Are Queen Elizabeth II & Prince Philip Still Together? 'The Crown' Shows Their Beginning
With Netflix's new drama series, The Crown, being released on Nov. 4, there is an expected interest in Queen Elizabeth II and her husband, as the trailer for the series shows both the highs and lows of their relationship as she struggled to find her footing as the ruler of England at the beginning of their marriage. So are Queen Elizabeth II and Prince Philip still together? Although you see the Queen Mother out and engaging with her country far more often than Prince Philip, the couple is still together and whenever you do get to catch a glimpse of them, they are as adorable as any other elderly couple. Except, in this case, one of them is the very powerful woman in charge of an entire country that she's ruled for decades.
Next year, Queen Elizabeth II and Prince Philip, Duke of Edinburgh will have been married for 69 years, during which they've ruled England for more than 64 of those years. And despite rumors that their marriage has suffered due to Queen Elizabeth II's power and place in the monarchy, there have been countless reports that the couple have actually remained strong throughout her reign, while maintaining a solid bond over the years.
According to Vanity Fair, in the letters she wrote to her parents following her wedding to Prince Philip, Queen Elizabeth II said that they "behave as though we had belonged to each other for years! Philip is an angel—he is so kind and thoughtful." And when Prince Philip wrote to her mother himself, he wrote that Queen Elizabeth II was "the only 'thing' in this world which is absolutely real to me and my ambition is to weld the two of us into a new combined existence that will not only be able to withstand the shocks directed at us, but will also have a positive existence for the good." Pretty swoon-worthy, right?
In the trailer for the upcoming Netflix series, The Crown, we see a lot of their marriage being played out, from their wedding day to her coronation, which finds their relationship constantly tested by the fact that Queen Elizabeth II is given the responsibility of the crown. So are Queen Elizabeth II and Prince Philip still together today? Although there are some points where you can tell there is strain on their relationship (though with good reason), it's safe to say that the decades-long marriage between the royal couple has come out even stronger.
In 1997, to celebrate the mark of their 50th wedding anniversary, Prince Philip said in a speech, "The main lesson we've learned is that tolerance is the one central ingredient of any happy marriage. It might not be so important when things are going well, but it is absolutely vital when things get difficult."
The next day, Queen Elizabeth II said of Prince Philip, "He has, quite simply, been my strength and stay all these years, and I, and his whole family, and this and many other countries, owe him a debt greater than he would ever claim or we shall ever know."
So even when you see them struggle throughout the course of The Crown, take comfort in knowing that love eventually prevails in the end, and even something as powerful as ruling the monarchy wasn't enough to pull these two apart. Relationship goals, you guys.